Sixt car hire Reading
Our Service | Traffic Information | Sixt Tip | Sightseeing Destinations | Business Destinations | Rental FAQs
On each branch page you will find details about our service and locations of the Reading branches for your convenience, as well as a quote form that will provide you with details about our fleet of cars and their affordable prices. We understand that you have a busy schedule and it can be hard finding time to pick up and drop off your rental. The Reading city centre branch is open on weekdays from early in the morning to late in the evening, as well as at the weekend from early in the morning until the early afternoon. We are also open on Bank Holidays, making it easy to collect and drop off your holiday rental vehicle. Our city centre offices have a 24-hour return facility so you are guaranteed to be able to fit your rental vehicle return no matter what your preferred drop off time is.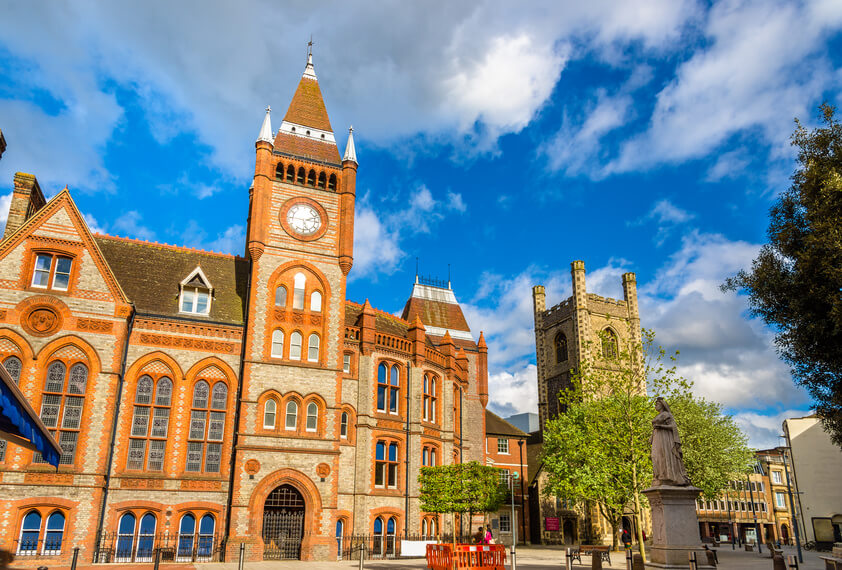 Our Service
We are proud to offer an extensive fleet of rental vehicles for your car hire in Reading, whether you are on a tight budget and looking for an economy model or want to splash out on a premium car for a special occasion. A quick price comparison of car hire in Reading will highlight the affordability of our prices. We offer good value family and economy saloons and 4x4s perfect for sporty holidays. Perhaps you are hiring a vehicle for transporting goods or moving to a new property, in which case we can provide you with transit vans and minibuses suitable for larger groups of people from our Reading East branch. If you require a vehicle that is suitable for those with special mobility requirements, please contact our offices and we will be happy to assist you. In addition, you can add even more value to your car rental in Reading by choosing from our range of useful add-ons. These include Sat Nav, perfect if you are unfamiliar with the area you are travelling to, child seats for those with young children and the option to share the driving by adding on an additional driver. We also offer different insurance options and special packages for younger drivers under 25 years of age.

Traffic Information
Car hire in Reading offers you a flexible method of transport that works around your busy schedule. Reading is a well-connected town that has excellent transport links both internally and with the surrounding area. Beneath the town runs the M4, a motorway which runs between London and the South of Wales. The A33 branches off from the M4 and can be used to access the smaller roads within Reading that reach the town's main attractions. As with all large towns, parking spaces in Reading can be limited and it is well worth planning ahead to check for spaces you can book ahead online prior to arriving. Reading has several multi-storey car parks in the town centre that are useful for going shopping or visiting restaurants in the town centre, or avoiding parking directly at attraction parking spaces that often become very busy.

Sixt Tip
Reading's Impressive Music Scene
Reading is most famous for its music, with the UK's most famous festival held here annually towards the end of August. The festival began in 1961 as the National Jazz and Blues Festival, becoming the Reading Festival in 1971, which was categorised as mostly heavy metal with a hint of punk. Each year close to 90,000 fans make their way to Reading for this festival, making it one of the largest in the UK. Aside from music, the city has plenty of other interesting things to do all year-round. As Reading is situated on the Thames and Kennet rivers, you have plenty of opportunities to enjoy some boating fun during your stay. Boat hire companies in the area offer a wide variety of services, from hiring boats on your own for experienced sailors to operated tours of the scenic waterways in the area.

Sightseeing Destinations
Silchester was originally the centre of the Iron Age Kingdom at the time of the Atrebates tribe (from the late 1st century, BC.). Following the Roman conquest in AD43, it was developed into the town of Calleva Atrebatum. The town featured the Roman's famous street grid pattern, the town was the home of numerous public buildings and continued to thrive until the early Anglo-Saxon era. It was one of the last Roman towns to be abandoned, in around the 6th or 7th century. The town has been excavated extensively over the last 30 years and offers some of the most well-preserved Roman ruins in Britain, as well as being one of the few places that was under continual occupation from the Iron Age.
Distance to Silchester
From our Reading city centre branch: 11 miles, about 25 minutes
From our Reading East branch: 13 miles, about 30 minutes
Basildon Park is a stately house situated in Lower Basildon, Reading. The house has passed into the care of the National Trust, having previously been the home of the Lord and Lady Iliffe. It has been carefully restored in the style of the 1950s, with the Lord and Lady having salvaged fittings and fixtures from across the country to add the finishing touches to their home. The house features exquisite 18th century reception areas that were lovingly restored by Lord and Lady Iliffe in the 1950s, as well as a 1950s kitchen that evokes bygone times. Basildon Park also has an exhibition of art works including those from the Old Masters, engravings from the 20th century and paintings of the Grand Tour.
Distance to Basildon Park
From our Reading city centre branch: 7.5 miles, about 23 minutes
From our Reading East branch: 8 miles, about 24 minutes

Business Destinations
As a large and historically significant town, Reading is home to a number of businesses and factories and has a rich cultural heritage that makes it an attractive venue for business events and conferences. Throughout the year there are many seminars and conferences held at locations in the town. The town has two main conference facilities, the Green Park Conference Centre close to the Foundry Brook and next to Green Park Business Park. The other is the Royal Berkshire Conference Centre, at the Madejski Stadium.
Distance to Green Park Conference Centre
From our Reading city centre branch: 3 miles, about 9 minutes
From our Reading East branch: 4 miles, about 12 minutes
Distance to the Royal Berkshire Conference Centre
From our Reading city centre branch: 3 miles, about 9 minutes
From our Reading East branch: 4 miles, about 12 minutes

Rental FAQs
Below are the quick answers to some of our most frequently asked questions. If you cannot find an answer to your question below or require more details, please visit our car hire FAQs.
What is included in the hire charge?
Can I hire a certain car model? If I'm not happy with my vehicle can I change it?
Do I have to pay a security deposit?
Which documents are needed to pick up the rental car?
What do the various insurance options cover?
Can I rent the car at one place and drop it off at another station?
Can I change my booking and do I have to pay a cancellation fee?
Does Sixt deliver rental cars?
Can I cross borders with my rental car?
What is Sixt's refuelling policy?