Sixt car hire Verona
Our Service | Traffic Information | Sixt Tip | Sightseeing Destinations | Business Destinations
All the details you need about opening hours are on our Verona car rental page and by clicking the grey right-hand tab you can open a map showing where the office is situated in relation to the town. Our car hire in Verona branch has extended opening hours and 24-hour return facilities that fit conveniently into your travel plans. To see just how affordable it is to hire a car with go through and compare our various vehicle categories before booking your rental vehicle. Booking cars in Verona is quick and straightforward using the telephone hotline or downloading the Sixt apps for iOS and Android devices. While we guarantee your chosen category of car hire in Verona we are unable to do the same for specific makes. Whether your booking is for one hour, a weekend or longer you will receive a warm welcome from our staff.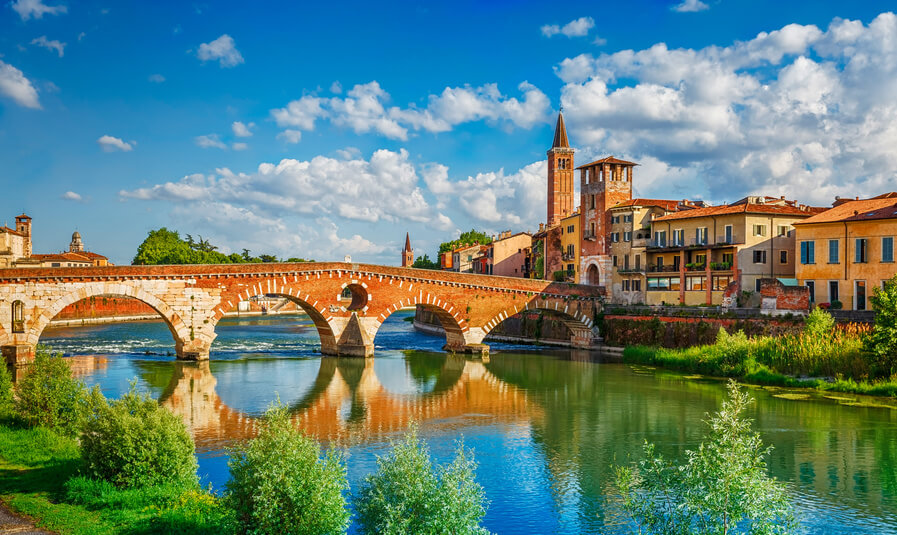 Our Service
Enjoy driving the historic streets of Verona in a comfortable vehicle from our premium fleet. Designed for all budgets and group sizes, our fleet ranges from compact and economical saloons to larger estate cars. All of our cars are provided by well-known names such as BMW, Audi, Jaguar and Mercedes-Benz and we can also offer vehicles adapted for different mobility needs. While browsing for rental cars in Verona take a few moments to select extras from our attractive and affordable range. It is easy to find your way around the city with a Sat Nav while younger family members travel safely in our child seats. We also offer special discounts on extra insurance and unlimited mileage packages. Additional drivers and younger drivers under 25 are always welcome.

Traffic Information
You will find our Verona airport car hire desk in the dedicated rentals area near the arrivals hall. Once your rental car has been collected, Verona is just 7.5 miles from the airport on either the A4 or the A22 motorways.
Only authorised vehicles are permitted to drive in Verona's historic centre where the streets are closely monitored by camera. As all of Verona's main tourist attractions are close together this should not stop you enjoying the city. Once away from the centre, roads are well-maintained but remember that Italian drivers are fast and not afraid to jostle for space! Roads in and around Verona become very congested on Summer weekends. Be aware that speed limits on Italian roads are varied according to weather conditions.
For street parking look out for blue and white lines and pay at the roadside meters. There are at least three large multistory car parks within the city centre.
When Verona was ruled by the Scala family they brought art to the city, amassing large collections that can still be enjoyed. Make sure to admire these works in the Civic Art Museum located in Scaliger Castle and the Canonical Museum, while beautiful frescoes can be found in the Church of Sant Anastasia. Children always enjoy exploring the ramparts at Scaliger Castle. A highlight of any visit to Verona has to be a tour of its enormous Roman arena, the third largest surviving coliseum in the world. For stunning views across the city and the Veneto countryside either take the lift or climb the 238 steps to the top of Lamberti's Tower. As you drive around the city in your rental vehicle you will see the remains of a Roman gate, Porta Borsari and the ornate Romanesque architecture of the Basilica di San Zeno.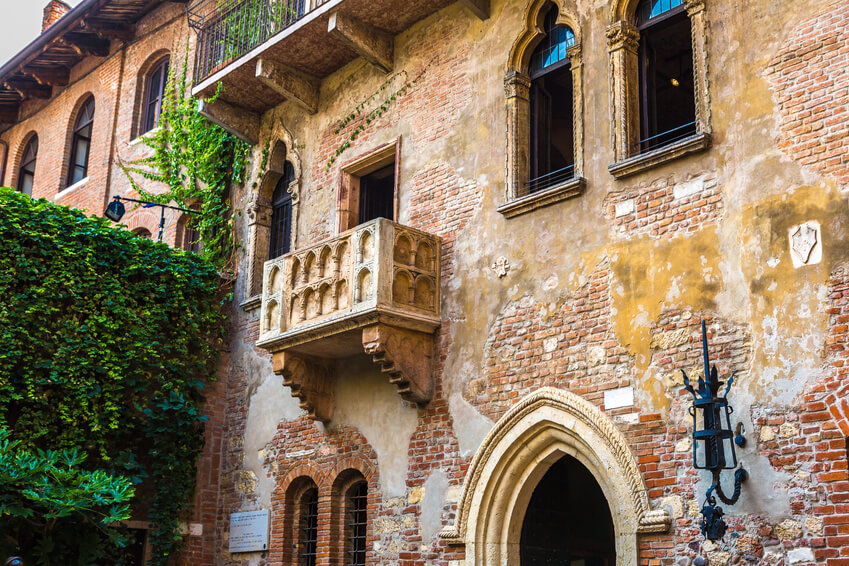 Sixt Tip
For many people Verona and the tragic romance of Romeo and Juliet are inextricably linked. William Shakespeare never actually visited Verona so his references to the city are not totally accurate but it is still fun to spend a few hours following in the footsteps of his characters. Take a photo of the balcony where Juliet stood while Romeo declared his love, spend a few moments in reflection at Juliet's tomb or enjoy a glimpse of Romeo's house. Legend says that a hand gently rested on the statue of Juliet beneath the balcony guarantees that love will soon blossom in your life.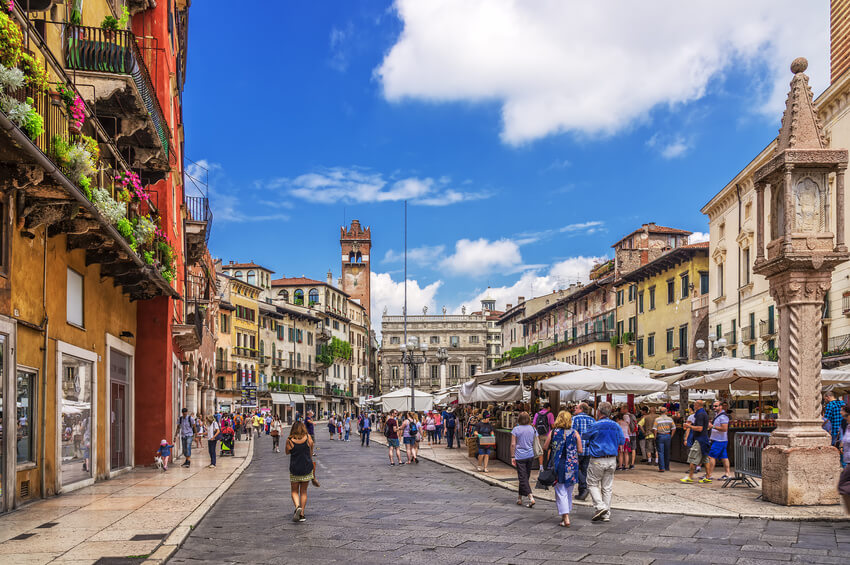 Sightseeing Destinations
The Lake Garda resort of Bardolino is the ideal destination for a waterside day out. Wander narrow pedestrianised streets and elegant squares before enjoying a relaxed lunch in a harbourside restaurant. After lunch either take a boat trip on the lake or enjoy the views with a walk on the Lakeside Path.
Distances to Bardolino
From Verona Airport: 18 miles, about 30 minutes
From Verona Arena: 23 miles, about 40 minutes
Gardaland and Gardaland Sea Life provide hours of fun with thrills and spills designed for all ages. Take an elevated tour of the park on the Monorotaia monorail before watching a live show in the Gardaland Theatre. A visit to the Sea Life Aquarium adds the finishing touch to an exciting day out.
Distances to Gardaland
From Verona Airport: 14 miles, about 25 minutes
From Verona Arena: 19 miles, 35 minutes
The Veneto region is known for its wines and an excellent place to get a taste of this heritage is the medieval village of Soaves. The centre of the village is still enclosed by an ancient wall while the battlements of the ruined castle give excellent views across the surrounding vineyards. The castle is also home to a small museum of historical armour and furniture. While in Soaves be sure to enjoy some of the soft white wine the area is known for.
Distances to Soaves
From Verona Airport: 20.5 miles, about 35 minutes
From Verona Arena: 39 miles, about 50 minutes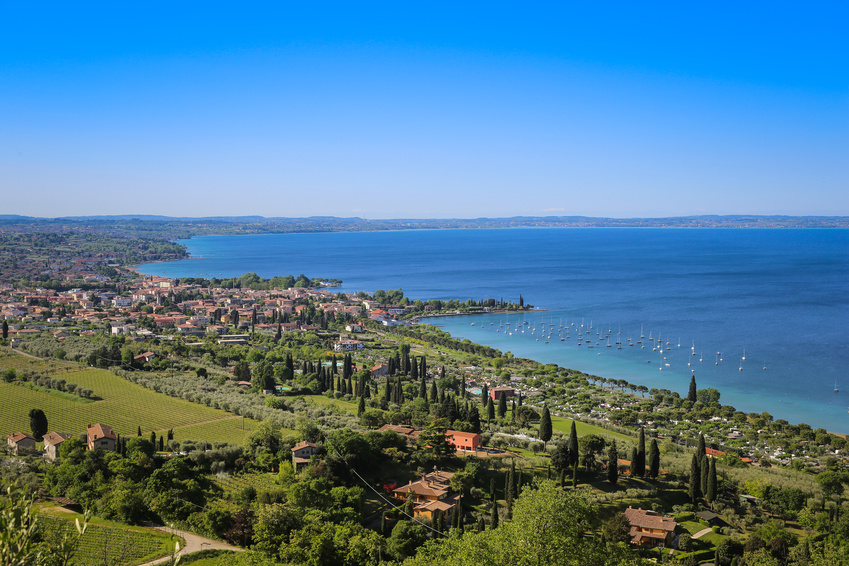 Business Destinations
Verona was settled and grew in importance through its strategic position at the intersection of several roads, a strategic importance that was reinforced after the Second World War when Italy joined NATO and a large military presence was created near the city. Today tourism is Verona's most important economic sector. The Aptuit Conference Centre hosts a busy annual programme of events, trade shows and conferences.
Distances to the Aptuit Conference Centre
From Verona Airport: 5.5 miles, about 15 minutes
From Verona Arena: 3.5 miles, about 17 minutes