Sixt car hire Venice
Our branch menu has all the information you need about the fleets and opening hours of our Venice branches while clicking on the grey right-hand tab opens a map showing their location in relation to Venice. At Venice Marco Polo Airport we offer extended opening hours that fit in with your travel plans while both branches have a 24-hour return facility. Our Venice Mestre Train Station office does not open on Sundays or Saturday afternoons. Our website gives price comparisons between vehicle types so you can pick what works before you hire a car from us. When you have made your selection, reserving your rental vehicle is easy with our booking hotline or by downloading the Sixt app for iOS and Android devices. We guarantee your chosen category of car rental in Venice but cannot do the same for specific makes. What we do guarantee, though, is a warm welcome when you collect your vehicle whether your reservation is for a weekend break or longer.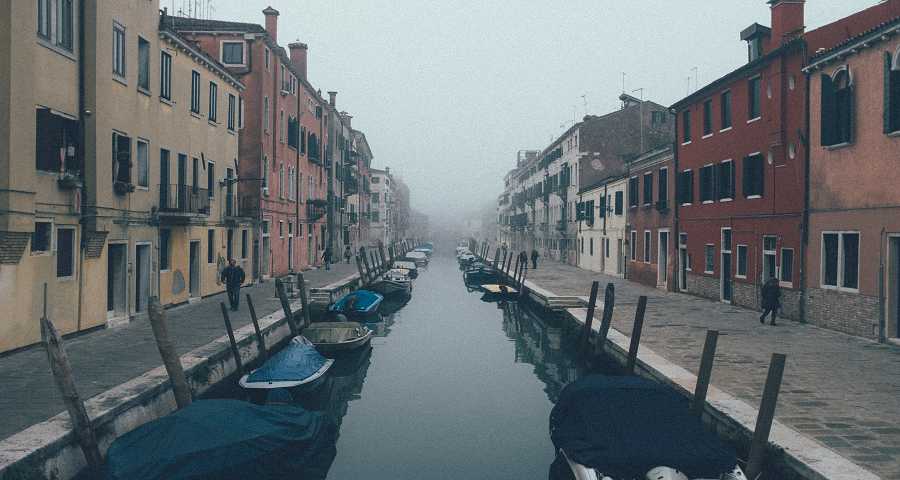 Our Service
Our car hire in Venice fleets contain premium vehicles to suit both business and leisure travellers and fit any party size or budget. Compact saloons and family-sized estate cars are available from both branches. At Venice Airport we have a selection of rugged 4x4s perfect for exploring the Veneto countryside while sports cars and convertibles can be reserved at Mestre Train Station. A luxurious choice for exploring Italy's Adriatic coastline. All of our rental cars are supplied by well-known names such as BMW, Mercedes-Benz, Audi and Jaguar and we also provide vehicles adapted for different mobility needs. Our attractive range of affordable extras is designed to give stress-free driving with Sat Navs for city navigating and a choice of baby and booster seats for your children. And, with Winter ski resorts just a couple of hour's drive from Venice take advantage of our ski racks and snow chains. Look out for deals on additional drivers, unlimited mileage and extra insurance. We can also insure younger drivers under 25.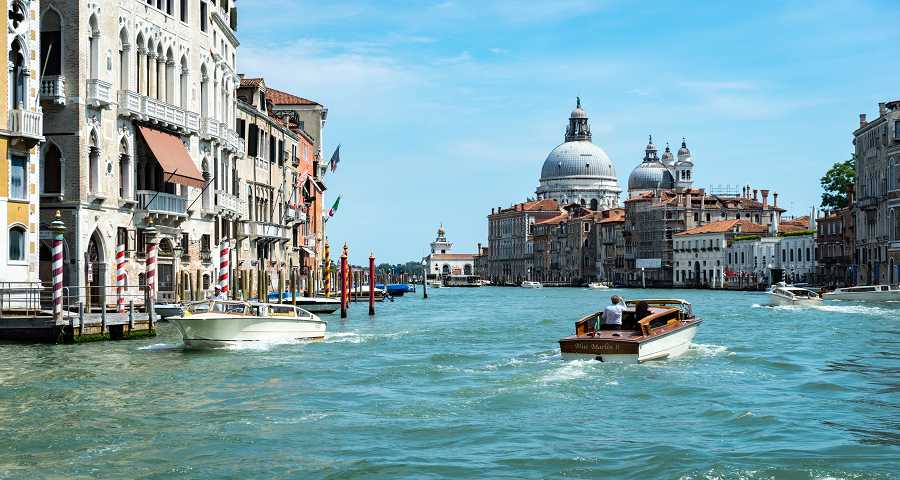 Traffic Information
Our car hire in Venice is supplied in conjunction with our partner Win Rent. At the airport, we are on the third floor of the Marco Polo parking while at Mestre Station the Win Rent desk is just outside the station concourse. The airport is located a short drive of 15 minutes from Venice while Mestre Station is located on the mainland near the access road to the Venetian islands.
No cars or vehicles of any sort have ever been allowed in Venice itself and it is the world's only totally pedestrianised city. All the main tourist attractions and historic cities of the Veneto, including Verona, are linked by networks of major roads while alternative country routes provide a more leisurely and scenic experience.
All cars, buses and coaches have to stop or park at the entrance to Venice in the Piazzale Roma or Tronchetto car park, the largest in Europe. Parking here is expensive and in peak periods it can be hard to find a space. A better alternative is to park on the mainland and catch a train, bus or Vaporetto into Venice. The nearest station, Mestre has car park charges but you might be lucky enough to find a free spot at stations further out such as Oriago or Mogliano Veneto.
Once you have safely parked your rental vehicle you are free to wander the narrow streets and bridges of the Rialtine Islands, the main part of Venice. Don't worry about getting lost, that is part of the charm of the city and sooner or later you will come to the lagoon or a canal where you can pick up a Vaporetto and find your way back to St Mark's Square, the heart of the city. Climbing the Bell Tower in the square is a great way to orientate yourself to the city's layout while enjoying a coffee and people watching in the beautifully decorated cafes that surround the square is a must-have Venetian experience. The most popular tourist attractions to take in are the Doge's Palace, St Mark's Basilica and the Rialto Bridge. Although quite expensive, taking a gondola ride is a must in Venice especially if you are on a romantic city break or your honeymoon. The world-famous glass factories and shops on the island of Murano are just a short boat ride away.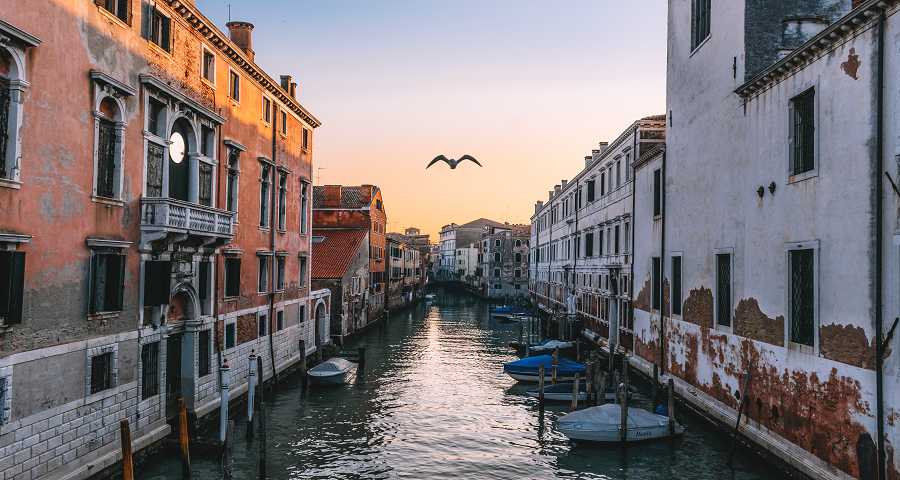 Sixt Tip
For the full flavour of Venice try and visit during Carnival in February, one of the most popular in the world. Everyone dresses up in sumptuous period costumes and hides their faces behind beautifully decorated masks. Rumour has it, that once a mask is donned you can get away with anything. Talented craftsmen spend all year creating these extravagant masks which make ideal holiday souvenirs.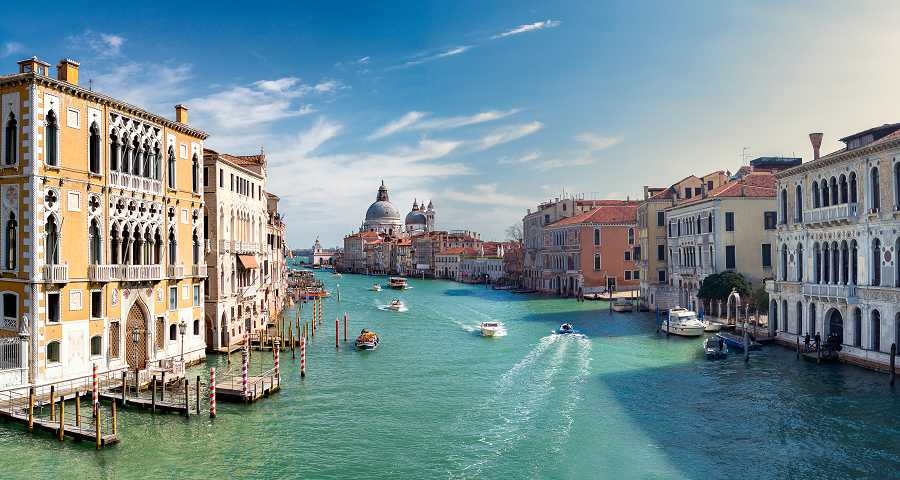 Sightseeing Destinations
Part of the charm of a Venetian holiday is the closeness of family-friendly beaches and resorts such as Jesolo where you will find Italy's longest beach. This sandy beach is 8 miles long.
Distances to Jesolo
From Venice Airport: 18 miles, about 30 minutes
From Mestre Station: 27 miles, about 40 minutes
The whole family will love a day out at Aqualandia. This huge water park is themed like a Caribbean island with huge slides and lots of live entertainment.
Distances to Aqualandia
From Venice Airport: 21 miles, about 30 minutes
From Mestre Station: 30 miles, about 45 minutes
With its imposing arena and ancient Roman history the city of Verona makes a pleasing contrast to Venice. It is also the legendary setting for Shakespeare's Romeo and Juliet.
Distances to Verona
From Venice Airport: 72.5 miles, about 1 hour 10 minutes
From Mestre Station: 65 miles, about 1 hour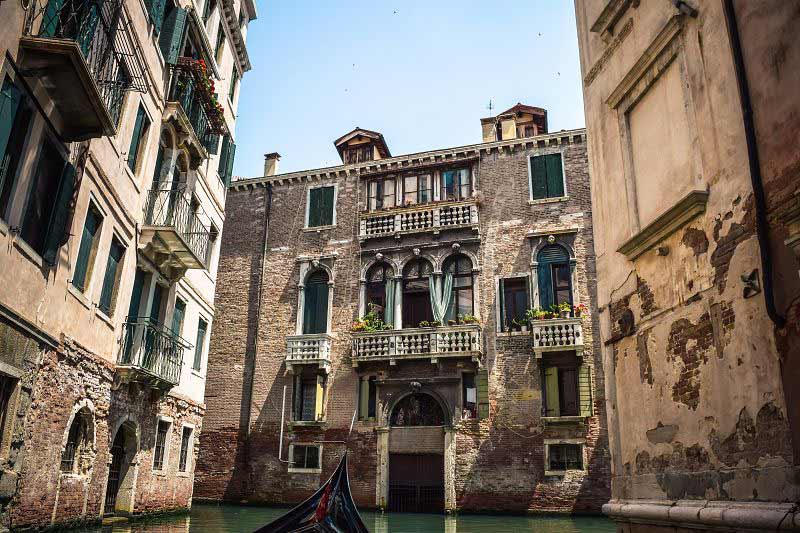 Business Destinations
Venice's prosperity was built on commerce and trade developed through its vast seafaring empire. Today the economy is based mainly on tourism along with Murano glass and Burano lace production. Heavy industry and shipbuilding are carried out on the mainland at Mestre and Porto Marghera. The Venice Convention is a large venue used to host the prestigious Venice Film Festival. This elegant building can seat over 3,000 people.
Distances to the Venice Convention
From Venice Airport: 15.5 miles, about 1 hour 30 minutes (including ferry)
From Mestre Station: 12.5 miles, about 1 hour 20 minutes (including ferry)