Sixt car hire in Tuscany
Online booking is fast and simple. Should you change your mind, free cancellation is almost always offered. In Tuscany you will find vehicles from recognised brands such as Fiat, CitroŽn, BMW or Audi at our Sixt offices. We offer our services at Pisa and Florence airports to serve you as soon as you arrive in Tuscany.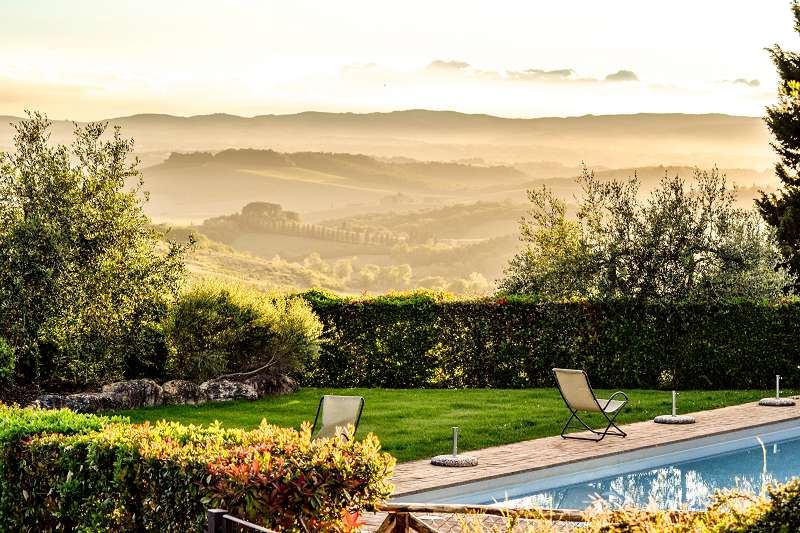 Our Service
You can add a child seat to your rental car or return the vehicle to a different branch if you plan a one-way itinerary. Do not hesitate to ask us for a Sat Nav or add on a reduced deductible insurance policy during your online booking to limit the risks.
Tip: In the period between the 15th November 5.11 and 15th April snow chains are compulsory in some parts of Italy.
Which vehicle category to choose?
Driving one of our small, inexpensive saloons will make manoeuvring Tuscany%u2019s narrow roads easy
A premium full-size vehicle guarantees a comfortable journey no matter how long
Estate cars ensure there is room enough for the whole family and even a few boxes of Chianti after a tour of the vineyards!
Driver's license
All licenses from the European Union and Switzerland are accepted. Driver's licenses from another country are also accepted if they are written in the Latin alphabet as part of a short stay. You can add an extra driver during the booking process. The driver must also present a valid driver's license when the vehicle is collected.
Age Restrictions
To rent a car in Tuscany as in the rest of Italy, you must be at least 21 years old and have been in possession of your driver's license for at least 1 year.
Accidents
In case of an accident, please contact the police immediately. The emergency number in Italy is 112. Also notify your Sixt agency as soon as possible. A report form is made available to you with the papers of the vehicle. For further assistance, please call +49 (0) 180 6269999.

FAQs
For how long can I rent a car from Sixt?
What documents do I need to rent a car?
What insurance cover do I need?
Can I collect my vehicle from one branch and return to another?
Do I always need to pay a deposit?
Can I book a car with unlimited mileage?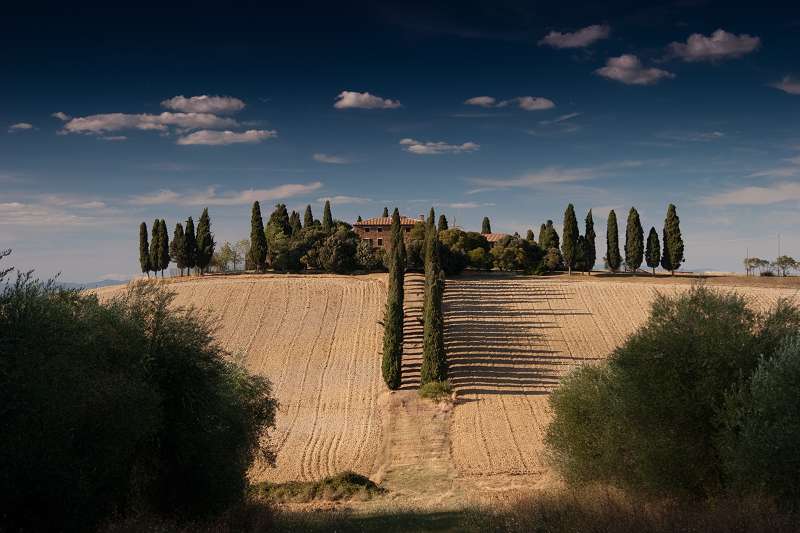 Visiting Tuscany
One of the most popular regions in Italy, with its mountains, vineyards, beaches and cultural cities, Tuscany continues to be a hugely popular destination for visitors from across the world. From the mountains to the sea passing through Pisa and the beautiful Florence, the region offers varied charms.
The Tuscan Coast
If you land in Pisa you will not be far from the sea. In half an hour you will reach the coast with your rental car. During the high season the seaside resorts of Viareggio, Forte dei Marmi, Marina di Pietrasanta and Marina di Carrara are very lively. Be careful, on private beaches you will have to pay for your pitch or go directly into the water.
Forte dei Marmi is probably the most expensive coastal town, lined with hotels, villas and luxury shops. Viareggio is famous for its carnival, which transforms the city for 5 weekends in the year.
Tip: It gets so warm in the afternoon in Tuscany that it is often nicer to move by car than by foot. Parking spaces are available even in high season. The number of your licence plate will be photographed by equipment to monitor parking.
The Apuan Alps
Behind the beaches of Marina di Pietrasanta and Viareggio you will find the Apuan Alps. If you cross them, do not miss their many marble quarries. Follow the road Strada Provinciale di Arni to discover the most beautiful panoramas. You will then reach the Garfagnana, an area with incredible charm in the province of Lucca.
This medieval village lost between lake and mountain has a fairy tale look, 1 hour drive from the coast of Versilia.
Step 2: Cava dismessa Hen Aux
Just before reaching the Strada Provinciale di Arni, you will pass Cava dismessa Hen Aux, a former stone quarry.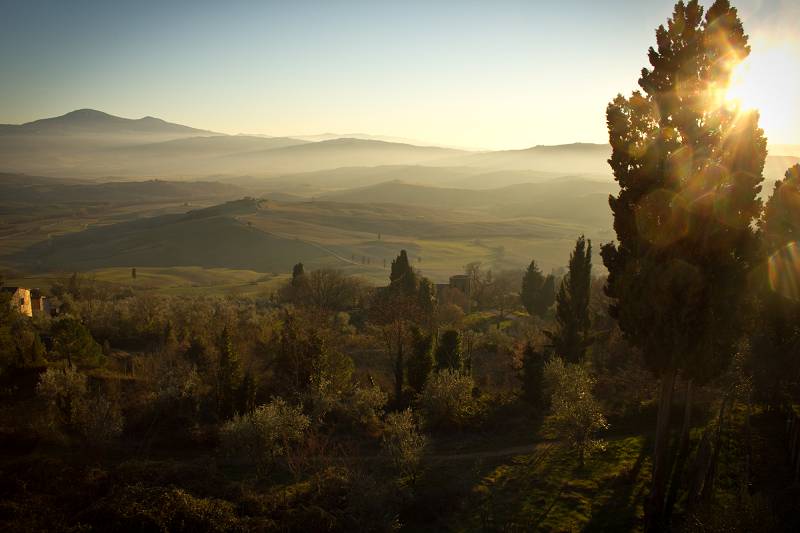 Important Cities
Pisa and Florence are two must-see cities during a stay in Tuscany. If you have time, complete your visit with Lucca.
Florence
Capital of Tuscany and the cradle of the Italian Renaissance, Florence is home to some of the greatest artistic treasures in the world. The gallery of the Uffizi presents only works by Leonardo da Vinci, Michelangelo, Caravaggio or Botticelli. The Galleria dell'Accademia hosts Michelangelo's David. You can also visit the Ponte Vecchio, famous and ancient bridge of jewellers and goldsmiths. Between Armani, Gucci, Versace and Prada, lovers of haute-couture will also be satisfied with the offerings! In Florence you can find our branches at the airport and in the city centre.
Pisa
The only tower in Pisa attracts hundreds of thousands of tourists each year. On Piazza dei Miracoli, it stands beside the Cathedral of Our Lady of the Assumption and the Baptistery. You will find our car rental services in Pisa near the airport.
Lucca
The pearl of northern Tuscany will charm you, 15 km from Viareggio and about 20 km north of Pisa. Its 12-meter high wall lends itself to a panoramic walk and hides an amphitheatre, the oval square and many shops.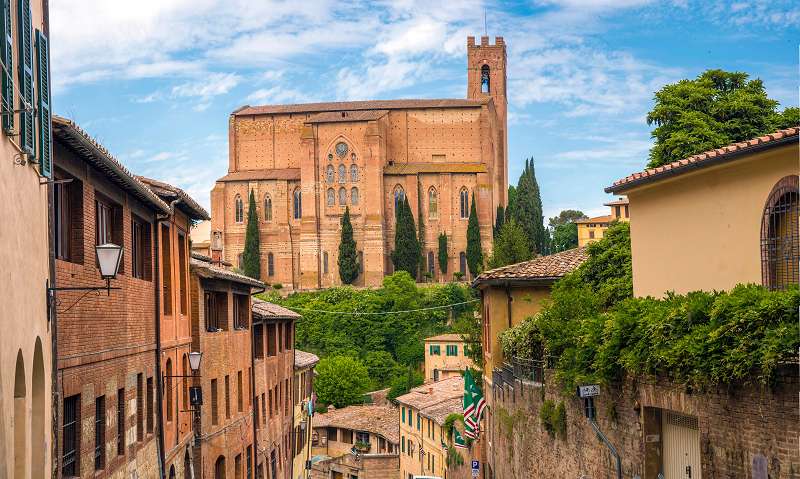 Climate, Cuisine, and Children
Climate and temperatures
Tuscany enjoys a temperate climate. Cultural visits are preferably from April to May, where temperatures are mild and museums are less crowded. From the end of June to the end of August the high season is in full swing: the heat can push the high thirties and will make you appreciate the coast. Autumn is also a good period to visit as it becomes less hot and sunny.
The Tuscan kitchen
The Tuscan cuisine is simple but delicious: the most eloquent example is the Bruschetta. Among the traditional Tuscan dishes, you will find chicken hunter (pollo alla cacciatora) or risotto with cep mushrooms. Red meat lovers will love the Florentine steak, all with Tuscan wine like Chianti, but also Nobile di Montepulciano or Brunello di Montalcino.
Tuscany with children
Italians love children. In addition, the beaches benefit from shallow water and there are lifeguards watching over the surf. The ideal family excursions? The zoo of Monte Amiato or the Pinocchio leisure park, located northeast of Lucca. Families may also prefer agritourism to hotels by staying in a farm or vineyard. Your car rental in Tuscany will allow you to move easily in the countryside.