Car hire in Sardinia
Our Service | Traffic Information | Sixt Tip | Sightseeing Destinations | Business Destinations | Rental FAQs
The location menu lists our three Sardinia branches. Click on the right-hand arrows to open each section and reveal details of their fleet and opening hours. The grey right-hand tab at the top of the menu takes you to a map overview showing our car rental in Sardinia branches. Please note that although each branch has a convenient 24-hour return facility our airport desks are not open on Sundays. You can make a quick comparison through our various vehicle categories. We make the rental process straightforward, either use our booking hotline or download the Sixt App. We guarantee your chosen category of car hire in Sardinia but are unable to do the same for specific makes. You are, however, guaranteed a warm welcome by our local staff whether you need your vehicle for one hour, a weekend break or longer.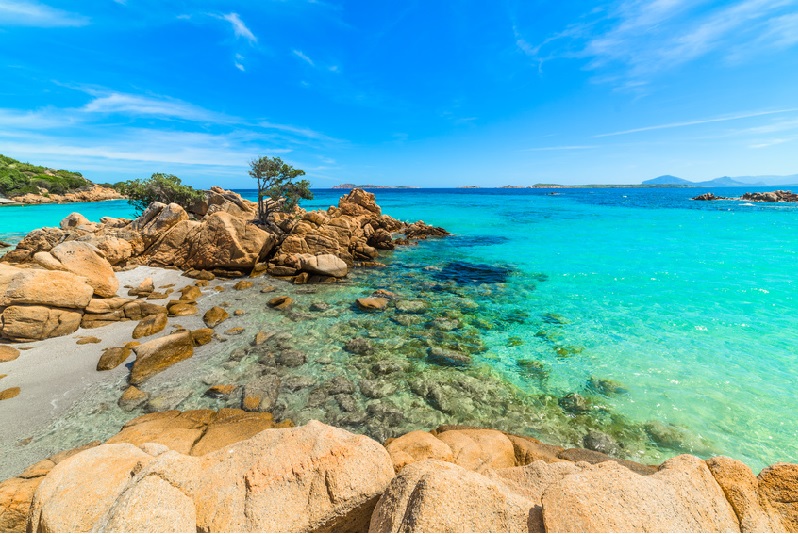 Our Service
Whatever your budget our Sardinia rental vehicle fleet has something to suit. Compact saloons and family-sized estate cars are available at all three airports and ideal for exploring Sardinia's cities or driving around the island. At Sardinia Cagliari Airport our premium fleet also includes rugged 4x4s, perfect for exploring the island's more remote areas, along with a selection of luxury sports cars and convertibles. These are just right for making the most of the island's sunny climate and coastal roads. Whichever vehicle you choose will be supplied by trusted names such as Porsche, BMW, Audi and Mercedes-Benz. We also have adapted cars for different mobility needs available. Selecting a Sat Nav from our attractive range of extras ensures you reach your Sardinian destination without getting lost while younger family members travel safely in our child seats. We often have special deals on unlimited mileage and additional drivers as well as insurance add-ons. Our rental cars are also insured for drivers under 25.

Traffic Information
At Sardinia Alghero and Sardinia Olbia Airports, our desks are clearly visible in arrivals while at Sardinia Cagliari Airport you should make your way to our office just to the right of the multilevel parking area. Cagliari Airport is around 4.5 miles from Cagliari, the island's capital using the SS553, SS195 or SS13 roads. The airport at Olbia is 1 mile from the city centre and close to the beautiful Smeralda coastline. Alghero Airport is just under 7 miles on the fast SP44 road from the picturesque medieval town of Alghero.
The island is intersected from North to South by the SS131/E25 and from West to East by the SS131. These are the only dual carriageways on Sardinia. Most direct roads from town to town are well-maintained but country roads can be very narrow and winding and you may find farm animals wandering freely across them. Road signs are not always reliable away from the main roads, a good reason for adding a Sat Nav to your car rental in Sardinia contract. The historic centres of Cagliari, Alghero, Sassari, Oristano and Nuoro are closed to non-authorised traffic during the day. A lot of petrol stations on the island do not accept international bank cards so make sure to carry Euros with you.
Parking in the main towns of Cagliari, Sassari and Olbia and at popular beaches can be tricky during the peak Summer season. Plan your day to get into town or to the beach early or during the quieter lunchtime period of 2 to 4 p.m. to be sure of a place. Blue lines indicate metered parking and white lines mean free parking. Do not be tempted to park in restricted zones marked by yellow lines.
Although the medieval heart of Alghero and the military architecture of Cagliari are worth exploring Sardinia's main attractions are its coastline and countryside. It is the perfect venue for nature lovers. Drive to beautiful family-friendly beaches such as Cala Gonone and Villasimius on the East coast or visit the wilder West coast. Beaches here can stretch for several miles and be backed by dunes nearly 200 feet high. The West coast around Alghero is also dotted with underwater caves and grottos ideal for scuba diving. Hikers can make the most of the hilly terrain and there are four Winter ski resorts in the central Gennargentu area.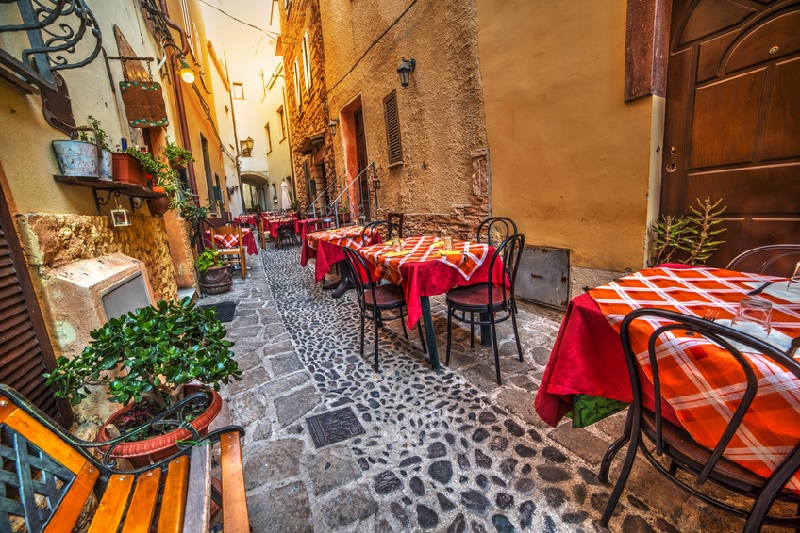 Sixt Tip
Explore Sardinia's Ancient History
Sardinia was home to the ancient and mysterious Nuragic civilisation that populated the island around 1,500 years ago. Megalithic monuments to these people are spread all over the island. With at least 7,000 to discover you will never be far from one as you explore Sardinia in your car hire but the most important site is at Su Nuraxi just 22 miles North of Cagliari.

Sightseeing Destinations
Children will have a great day out at Aquafantasy with its three pools, thrilling slides and lazy river while parents can relax in its attractive gardens.
Distances to Aquafantasy
From Olbia Airport: 50 miles, about 1 hour 30 minutes
From Alghero Airport: 54 miles, about 1 hour 30 minutes
Go underground into a fairy tale world at the Grotta di Ispinigoli. The world's second tallest stalagmite is here and jewellery dating back to the Phoenician period has been found in this huge cave complex.
Distances to the Grotta di Ispinigoli
From Olbia Airport: 61 miles, about 1 hour 10 minutes
From Alghero Airport: 115 miles, 2 hours 10 minutes
To really escape the crowds head to the Su Gorroppu gorge area in the Ogliastra region. Today it's the least populated district in the whole of Italy but evidence of past settlements are everywhere. Relax on beautiful beaches or hike in the Su Gorroppu Gorge, one of the deepest canyons in Europe.
Distance to the Su Gorroppu Gorge
From Olbia Airport: 75 miles, about 2 hours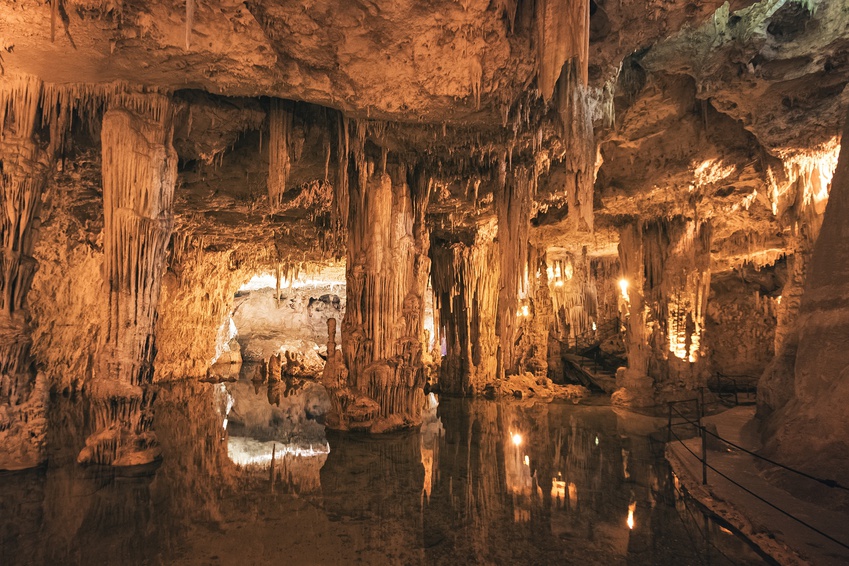 Business Destinations
Tourism and the financial services are Sardinia's most important economic sectors along with the export of surplus electricity to the mainland, oil refining, chemical production, cork growing and tuna fishing. By European standards, unemployment is high on the island. The modern Technology Park of Sardinia is home to a range of conference and exhibition facilities.
Distance to the Technology Park of Sardinia
From Cagliari Airport: 7.5 miles, about 11 minutes

Rental FAQs
Below are the quick answers to some of our most frequently asked questions. Please be reminded that every country has slightly different rules and regulations, so for the most specific and detailed information pertaining to your desired rental please visit our rental information page.
Can I hire a certain car model? If I'm not happy with my vehicle can I change it?
Do I have to pay a security deposit?
Which documents are needed to pick up the rental car?
What do the various insurance options cover?
Can I rent the car at one place and drop it off at another station?
Can I change my booking and do I have to pay a cancellation fee?
Does Sixt deliver rental cars?
Can I cross borders with my rental car?
What is Sixt's refuelling policy?