CURRENT INFORMATION CONCERNING LOCAL RESTRICTIONS DUE TO CORONAVIRUS (COVID-19)
Sixt Car Hire Services at Pisa Airport, Italy
To explore Pisa and the stunning surroundings, Sixt offers affordable and reliable car hire for a wide selection of quality vehicles. Our versatile fleet includes stylish saloons, compact city cars and spacious people carriers, meaning you can choose the ideal vehicle for your budget and group. Locating Sixt at Pisa Airport is quick and easy: simply take the Airport Shuttle Bus Service and it will drop you off directly at the Sixt branch. In addition to our helpful staff, we offer unbeatable services with a 24-hour car rental return option, online booking and convenient opening hours. No matter what time your flight arrives or departs, you can be confident that Sixt will be there to deliver seamless and hassle-free car hire.
Our most popular car categories at Pisa Airport
Explore Pisa and Tuscany with your own Car Rental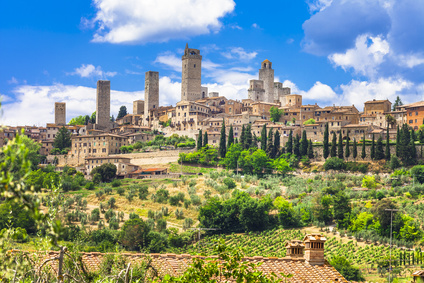 Perhaps best known for its Leaning Tower, Pisa attracts visitors from around the globe for its architectural and historical wonders. Located in Tuscany, it is also a gateway to one of Italy's most popular regions. Tuscany offers visitors a wealth of sights and experiences and your car hire offers you the flexibility to explore the food, towns and landscapes at your own pace. No longer constrained by train schedules or what a tour deems worthy of a visit, you can build your own itinerary when you hire a car from Sixt at Pisa Airport.
Some of the most important cities of the Renaissance are found here, including unforgettable Florence. Hire a car to drive to see the beautiful buildings and stunning squares of Florence, approximately one hour east of Pisa. The birthplace of the Italian Renaissance, Florence is famous for its museums, including the Galleria degli Uffizi and Accademia. The Duomo di Firenze is an imposing and opulent cathedral.

Approximately 20 minutes from Pisa is Lucca, a small city with architectural reminders of its Etruscan and Ancient Roman past. Here visitors will find the remains of a Roman amphitheatre, the 14th century Duomo di San Martino, and elegant towers with remarkable views of the city.

Travel just over an hour to the northwest is Cinque Terre. This collection of five coastal villages are recognised as a UNESCO World Heritage Site. Caorniglia, Manarola, Vernazza and Riomaggiore evoke old world charm, while Monterossa is a beautiful beach resort. These scenic communities over panoramic views of the Mediterranean from perilous cliffs and colourful streets to explore.