Sixt car hire Pisa
Our Service | Traffic Information | Sixt Tip | Sightseeing Destinations | Business Destinations
Opening the right-hand tab reveals a map showing the location of our car hire in Pisa office while returning to the left-hand tab gives you its exact address and opening hours. The branch has extended opening hours and a convenient 24-hour return facility. An online price comparison shows how affordable it is to hire a car in Pisa from us while we make our booking systems quick and straightforward. Use the reservation numbers or download our Sixt iOS and Android apps for reserving your car on the go. Your chosen car rental in Pisa category is guaranteed but we cannot do the same for specific models. You will receive a warm welcome from our knowledgeable staff whether you need your vehicle for one hour, a weekend break or longer.
Our Service
Our Pisa rental vehicle fleet contains a premium range of cars and minibuses designed to suit any budget and party size. Compact saloons are ideal for city exploring while 4x4s take you easily into the Tuscan countryside. Or treat yourself to a luxurious cruise along the sunny coastline in sports cars or convertibles. We also offer a range of vans and trucks which are ideal if you have business or exhibition materials to transport in Pisa. All of our rental cars are supplied by trusted names such as BMW, Mercedes-Benz, Audi and Porsche and include vehicles modified for different mobility needs. Enjoy a stress-free visit to Pisa with our affordable range of extras. Navigate your way around city attractions with Sat Navs or pick up child seats for your youngsters. Look out for our special deals on insurance, unlimited mileage and additional driver options. We are also happy to insure drivers under 25.

Traffic Information
Our car hire at Pisa Airport desk is located in the Piazzale Mario Cobianchi parking area. This is a short walk from the terminal or alternatively a shuttle service departs every fifteen minutes from outside the arrivals hall. The airport is just under 4 miles from the city centre.
Although a car rental in Pisa is invaluable for exploring the Tuscan countryside be very careful about driving in the historic centre of the city. Only residents or hotel guests with permits are allowed to drive in its Limited Traffic Zone. This is strictly enforced by cameras and expensive fines that quickly mount up. Our branch staff or your hotel will be able to advise you on this.
White lines on kerbs indicate free parking while blue lines mean payment at a nearby meter. Public parking is available on the outskirts of the historic centre.
Although you are unable to explore the historic heart of the city in your rental car you can enjoy a drive along the River Arno and across one of the bridges to visit sights such as La Citadella fort and the University Botanical Gardens. Most of the city's must-see attractions, however, are clustered together in the narrow streets of its centre. The Torre Pendente or Leaning Tower has been at an angle since shortly after it was constructed on marshy land in the 12th-century. Time slot tickets for this very busy attraction have to be bought in advance but it is well worth the effort. From the top look out for the other two leaning towers in Pisa, the Bell Towers of San Nicola and San Michele of Scalzi Churches. Pisa Cathedral and Baptistry are fine examples of Italian Romanesque architecture while the Museo delle Sinopie is a treasure trove of art. Then take a stroll to soak up the local atmosphere before enjoying some people watching and coffee in the charming little squares.

Sixt Tip
See Hidden Architectural Gems
Alongside the cluster of historic buildings in the Piazza del Duomo or Cathedral Square is the Monumental Cemetery. Founded in the 13th-century and built in an ornate Gothic style the cemetery was designed to house the Roman sarcophagi that were dotted around the city. Legend states that the cemetery was built over a layer of earth brought back from the Holy Land after a 12th-century crusade. Pisan notables, including the Medicis, also found their final resting place in this city of the dead. Originally its interior walls were decorated with frescoes depicting Old Testament stories but unfortunately many were bomb damaged during the Second World War. A visit to the cemetery makes a more tranquil alternative to the crowded areas around the Tower and Cathedral.

Sightseeing Destinations
The pretty medieval village of Calci nestles in the Pisan Mountains. Calci has two main attractions, the baroque Certosa and the Pisa University Museum of Natural History where visitors can admire the largest collection of whale bones in Europe. A stroll around the town reveals panoramic views of Pisa and the Tuscan archipelago.
Distances to Calci
From Pisa Airport: 10 miles, about 20 minutes
From Piazza del Duomo: 10.5 miles, about 30 minutes
Take a drive through the Tuscan countryside to the beautiful town of towers, San Gimignano. The towers rise above the vineyards that dot the area and are some of the very few vineyards in Tuscany that produce white grapes. As well as visiting a winery enjoy the 14th-century frescoes in the College of San Agostino.
Distances to San Gimignano
From Pisa Airport: 46 miles, about 1 hour 10 minutes
From Piazza del Duomo: 54 miles, about 1 hour 30 minutes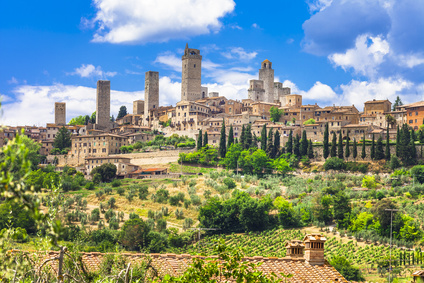 When you want a break from culture, you are never far from a beach in Pisa. The beautiful Marina di Vecchiano is on the Tyrrhenian coast and is a natural park area with long stretches of sand backed by sand dunes and pine woods. Swim in crystal clear waters while you admire the outline of the Apuan Alps in the distance.
Distances to Marina di Vecchiano
From Pisa Airport: 10.5 miles, about 20 minutes
From the Piazza del Duomo: 11 miles, about 25 minutes

Business Destinations
Pisa has a long history as one of Italy's maritime republics although that sector has now been replaced by tourism. Leather, footwear, glass and pharmaceutical production are important economic sectors while wine production, agriculture and information technology have all seen a rapid expansion in recent years. The Palazzo Dei Congressi is the main conference centre in Pisa. This modern purpose-built venue has several auditoriums and meeting rooms as well as large exhibition and trade show spaces.
Distances to the Palazzo Dei Congressi
From Pisa Airport: 1.5 miles, about 10 minutes
From Piazza del Duomo: 2 miles, about 12 minutes