Sixt car hire Naples
Our Service | Traffic Information | Sixt Tip | Sightseeing Destinations | Business Destinations
View our branch page to see the fleet details and opening hours of our car rental in Naples offices then use the grey right-hand tab at the top of the menu to reveal a map showing their locations in the city. Both the airport and train station branches offer a 24-hour return facility while at Naples Airport our extended opening hours fit conveniently into your travel plans. You can compare the prices between our vehicle categories to see our affordable options. We make it easy to hire a car with us while making your reservation quick and straightforward. Simply download the iOS and Android apps for your mobile devices or use our booking hotline. While we guarantee your chosen category of car hire in Naples we are unable to do the same for specific makes. Whether you are visiting this fascinating city for a weekend break or a longer holiday you will receive a warm Italian welcome from our office staff.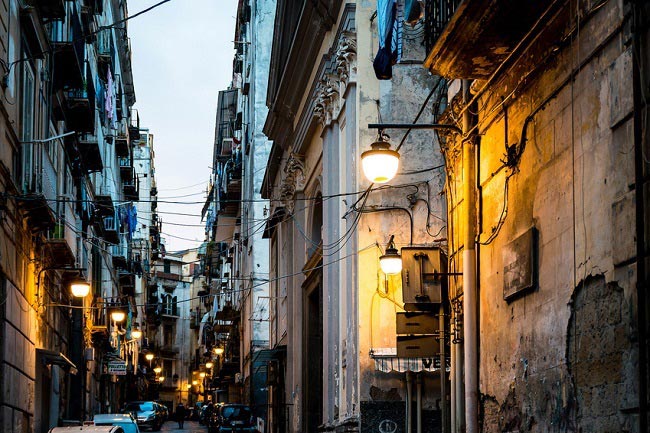 Our Service
Select rental cars from our premium fleet designed to suit every party size and budget. Compact saloons and estate cars are available at both branches and are perfect for city driving and family holidays. At the airport, we also offer a choice of luxury sports cars and convertibles. These are ideal for driving along the beautiful Gulf of Naples coastline or pick rugged 4x4s for exploring the volcanic countryside. All of our rental fleets are supplied by names you can trust like BMW, Audi, Mercedes-Benz and Jaguar and include vehicles adapted for different mobility needs. To help you navigate the city streets of Naples select a Sat Nav from our attractive range of extras that also includes child seats, insurance add-ons and unlimited mileage packages. Adding additional drivers to your contract is easy and we are always happy to welcome younger drivers under 25.

Traffic Information
At Naples Airport take the shuttle bus from just outside the arrivals hall to the car rental area where our desk is clearly visible. The airport is just 20 minutes drive away from the city centre. Our Naples Train Station office is located near Platform 5 in the station's shopping centre.
The traffic in Naples has a worldwide notoriety for the speed it moves at and the congestion that builds up. Drivers in the city have a creative approach to red traffic lights and junctions so exercise caution at all times. It is probably best to avoid the narrow streets of the historic centre but with a Sat Nav you should have no problem exploring the different districts of the city. Driving the coastal roads is enjoyable and rewards you with beautiful views. Be aware that speed limits on Italian roads vary according to the weather conditions.
The amount of traffic on Naples streets can lead to some chaotic parking situations but if you are lucky you might find some metered street parking in the central areas. If not, head to the open-air car parks on the outskirts of the city and finish your journey by bus or Metro.
Wherever you drive in your car hire around Naples you will come across evidence of its past from the ruins of Roman thermal baths in Agnano to the Norman Castel dell'Ovo in Posillipo. This strangely shaped castle houses the Naples Museum of Prehistory. Stop in San Carlo all'Arena to explore the largest palace in Naples, the Bourbon Hospice for the Poor. The Museo Nazionale di Capodimonte houses a must-see collection of Renaissance and Baroque art and furniture. In contrast, the business district or Centro Direzionale has the largest grouping of skyscrapers in Southern Europe. For something a little different, take a tour of the Teatro San Carlo, Naples' opera house or visit the medieval catacombs on the Capodimonte Hill.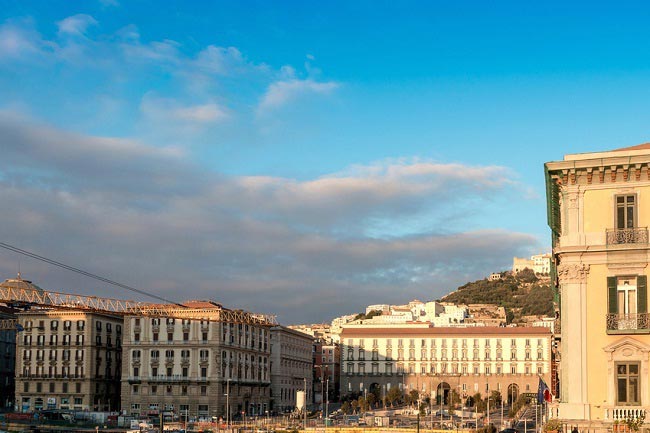 Sixt Tip
See the Terrifying Power of Mount Vesuvius
Naples lies in one of the most volcanic parts of Italy and the city of Pompeii, devastated when Mount Vesuvius erupted, is just half an hour away. A visit to Pompeii lets you step back in time by walking the preserved streets of the city. Make sure to see the Roman forum and amphitheatre as well as the poignant remains of individual homes and small businesses. Either before or after your visit to Pompeii spend some time in Naples' Archaeological Museum. Here most of the frescoes, mosaics and items of day to day life from these ash-covered cities can be seen.

Sightseeing Destinations
The 18th-century Caserta Royal Palace is considered to be one of the most beautiful royal palaces in Europe. Spend a few hours exploring its hunting lodge, gardens and extensive park.
Distances to the Caserta Royal Palace
From Naples Airport: 16 miles, about 30 minutes
From Naples Train Station: 18.5 miles, about 35 minutes
For an active day out drive to the Mount Vesuvius Visitor Centre and hike to the top of the volcano. Look into the smoking rim of the crater and enjoy stunning views of the Gulf of Naples.
Distances to Mount Vesuvius
From Naples Airport: 17.5 miles, about 45 minutes
From Naples Train Station: 16 miles, about 45 minutes
If you are visiting Naples with your family then spend a day at Edenlandia. Inspired by California's Disneyland, Edenlandia was the first theme park to be built in Europe. There are dozens of attractions catering for all ages and an exciting 3D cinema.
Distances to Edenlandia
From Naples Airport: 8.5 miles, about 15 minutes
From Naples Train Station: 9 miles, about 20 minutes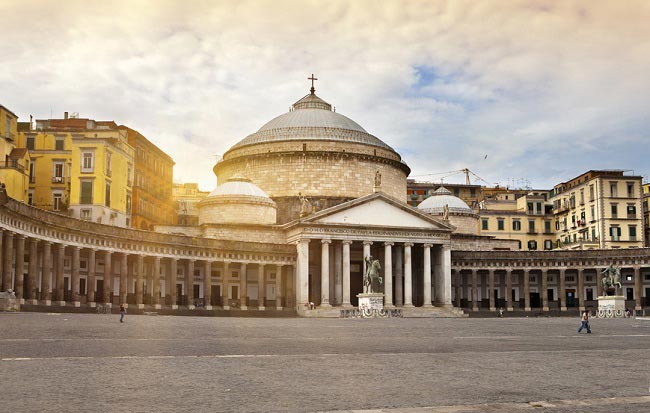 Business Destinations
Throughout its history Naples has had a large urban economy that has often been hit by political and economic corruption. In recent years efforts have been made to combat this and both corruption and unemployment are decreasing. The Port of Naples sees the world's second-highest level of passenger traffic, after Hong Kong and is the headquarters of several travel companies. Naples is also home to a NATO Allied Joint Force Command. Other important sectors are tourism, service industries and a growing number of small start-up enterprises. The main conference, convention and exhibition venue in Naples is the University of Naples Federico II Conference Centre. This multi-purpose building enjoys an attractive waterside setting in the city centre.
Distances to the Federico II Conference Centre
From Naples Airport: 5.5 miles, about 30 minutes
From Naples Train Station: 5 miles, about 30 minutes