Car Rental with Sixt in Calabria, Italy
Service
|
FAQs
|
Tips for the Region
|
Important Cities
|
Climate, Cuisine, and Children
Car hire in Calabria is simple with Sixt: you can reserve your vehicle online in seconds, and we almost always offer cancellation free of charge. As soon as you arrive at either Reggio Calabria and Lamezia Terme you can jump in your vehicle straight away. With branches in Catanzaro, Cosenza, Siderno, Tropea and Vibo Valentia, we're here to help you enjoy Calabria to the full. Our fleet features major brands like Nissan, Fiat and Alfa Romeo, so you know you'll always get a top-quality vehicle when hiring from us.
Our Service
With unlimited mileage policies on all our vehicles, there's no restrictions on how far you can go. If you're here for winter sports you can add optional extras like ski racks, while we offer you peace of mind with third party and theft protection insurance.
Which vehicle category to choose?
The winding roads of Calabria will be a breeze in one of our saloon cars, ideal for two or three people
All the family can ride in comfort around the roads of Calabria in one of our estate cars
Driver's license
If you're from an EU country or Switzerland then when you arrive to pick up your hire vehicle both the driver and the person leasing the car must present a valid driving license and an identity document like a passport.
Age Restrictions
You can only rent a car in Calabria if you're at least 18 years of age and have had your driving license for one year or more. If you're not from an EU country or Switzerland, your driving license will only be accepted if there is no visa in your passport, and if there is a visa, you must have only been in Europe for under 6 months.
Accidents
Car hire in Calabria is usually very safe, but if an accident occurs involving your rental vehicle you must contact the local police as soon as possible on 112. Please also let your local Sixt branch know as soon as possible, and you will be asked to complete the report form made available to you along with the vehicle documents. For further assistance, please call +49 (0)180 6269999.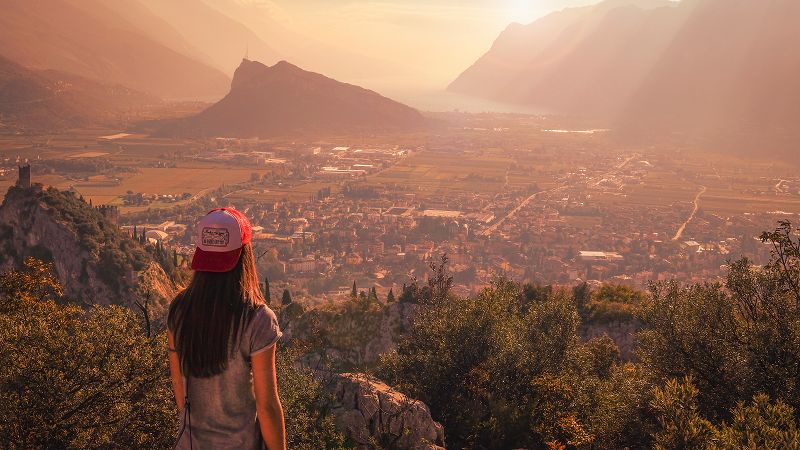 FAQs
For how long can I rent a car from Sixt?
What documents do I need to rent a car?
What insurance cover do I need?
Can I collect my vehicle from one branch and return to another?
Do I always need to pay a deposit?
Can I book a car with unlimited mileage?

Tips for the Region
With a mixture of gorgeous beaches, beautiful countryside towns and a cosy rural feel, this Southern Italian region truly is full of charm. From bustling cities like Reggio Calabria, Lamezia Terme and Catanzaro to walled hilltop villages like Badolato, there's something for everyone.
Landscapes
Calabria is lucky in that it has miles of unspoilt beaches, and cheap car rental is the perfect way to take advantage. To take in some of the most breathtaking coastline views you've ever experienced, begin your road trip at Falerna Marina just near Lamezia Terme and take the coastal SS18 and SS522 routes south towards Reggio Calabria: while it is a longer drive than taking the main road, you will pass through gorgeous marina towns like Tropea - which are must-sees for any visitor.
For a more rural touch, you can drive about an hour through the Parco Nazionale della Sila from Cosenza to the historic old town of San Giovanni in Fiore and see some of the most breathtaking forest and lake landscapes in all of Italy.
Important Cities
While cities like Reggio Calabria, Lamezia Terme and Catanzaro may have a decidedly sleepy feel, there's lots to do to keep the whole family occupied.
Reggio Calabria
As the largest city in the region and a bustling port and shipping hub, the sea plays a large role in Reggio Calabria's culture. From the gorgeous seafood on offer at the local restaurants to the ferries regularly sailing to Sicily, the city is surrounded on three sides by water. Not to be missed in this city is the National Museum of Magna Grecia, which records the area's extensive Greek and Roman heritage.
Lamezia Terme
Lamezia Terme is jam-packed with historic sites, such as the centuries-old Bastion of Malta building and the imposing castle ruins on a hillside stretching over a thousand feet into the air. Lamezia Terme's handy central location means that it is the region's main air transport hub, and you can start your Calabrian road trip at the airport with cheap Sixt car rental services.
Catanzaro
Known as "the city of the two seas" due to its location overlooking both the Ionian and Tyrrhenian seas, this charming place is full of things to do. From a walk over the Viaduct Morandi-Bisantis (one of Europe's tallest bridges) to the many churches and basilicas dotted all over town, you certainly won't be bored here. Don't miss Scolacium's Archaeological Park, a Roman site bringing Calabrian history from centuries ago back to life.

Climate, Cuisine, and Children
Climate and Temperatures
Calabria's location in Southern Italy means that it enjoys a beautifully temperate and warm climate in the summer, although there can be a lot of rain in winter. In July, temperatures reach averages of 25 to 30°C - which means once you've picked up your rental car, you may need to wind down the windows and turn on the air conditioning to get a bit of cool!
The Calabrian kitchen
Calabrian cuisine is heavily influenced by its coastal location, meaning that seafood features on a lot of menus. Traditional local fish dishes include stockfish cooked in tomato sauces and served with side dishes like potatoes and capers, while meat-eaters can indulge in fritula - a pork dish made with pig's skin and served with bread. Olive oil and red peppers also feature heavily in Calabrian cuisine, and there are plenty of traditional Italian favourites like pizza and pasta available as well.
Calabria with children
Calabria is full of places to go with the kids, and with a Sixt rental car at your disposal, you won't have to worry about getting around. Head up the Tyrrhenian coast to Amantea, where the delightful sandy beaches mean parents can relax while children enjoy the many play areas on offer, while the Acquapark Odissea 2000 water park on the Ionian coast is perfect for children big and small!