Sixt car hire Bologna
Our Service | Traffic Information | Sixt Tip | Sightseeing Destinations | Business Destinations
Our city page gives you a useful overview of our car rental in Bologna branches, with brief details of opening hours, addresses and rental vehicles available. Click on each to go to their respective web pages. The grey right-hand tab at the top of the city page opens a map showing where branches are located in relation to the city. Our Bologna Airport branch has extended opening hours to fit in with travel plans while both branches have a convenient 24-hour return facility. Please note that our office at Bologna Train Station is not open at weekends. Use our comprehensible website or app to compare our different vehicle categories before you hire a car in Bologna. When you are ready, reserving your car hire in Bologna is easy, simply use our booking hotline or download the Sixt apps for Android and iOS devices. While we guarantee your chosen category of car hire in Bologna we are unable to do so for specific models. When you arrive in this beautiful city you are sure of a warm welcome from our office staff whether your rental contract is for a few hours, a weekend or longer.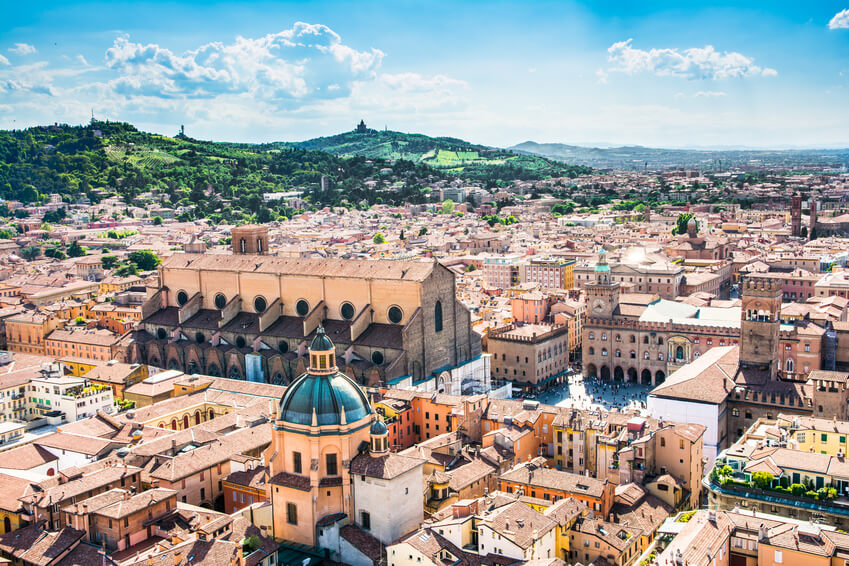 Our Service
Our fleet of rental cars in Bologna is designed to suit your party size or budget whether you are travelling for business or leisure. Both branches offer compact cars and spacious saloons ideal for getting around the city streets while at Bologna Airport we also have a selection of 4x4s, ideal for exploring the countryside of Emilia-Romagna. All of our car rental in Bologna vehicles are supplied by premium names such as BMW, Mercedes-Benz, Audi and Porsche. We also have a selection of cars adapted for different mobility needs. When you reserve your rental vehicle check out our affordable range of optional extras. Look out for great deals on insurance top-ups, additional drivers, unlimited mileage and insurance for younger drivers before adding Sat Navs or baby seats and boosters. If you are visiting during the Winter months you can also select ski racks or snow chains.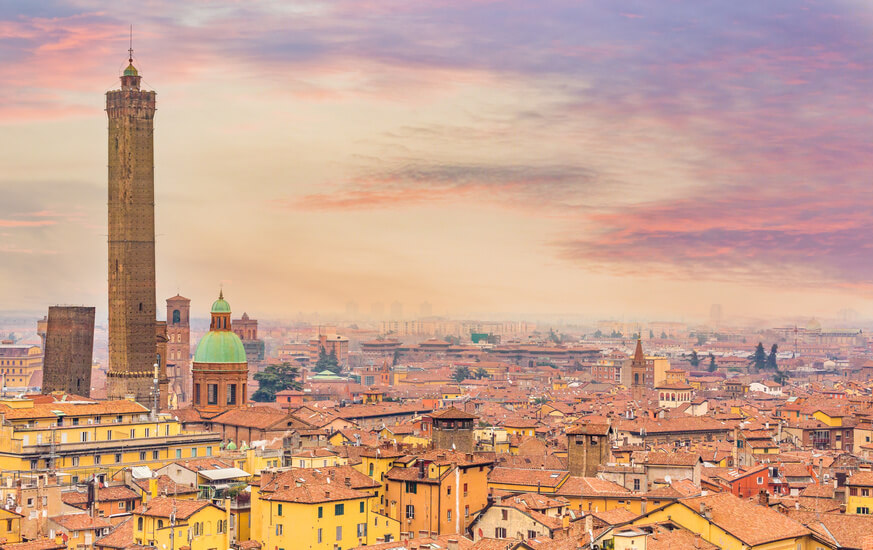 Traffic Information
Both of our Bologna car hire branches are operated in partnership with Win Rent. You will find their desk clearly signposted in the arrivals hall of Bologna Guglielmo Marconi Airport. Once your paperwork is complete and you have the keys to your rental vehicle the city centre is just 20 minutes away. Bologna Centrale Station is on Piazza Medaglie d'Oro in the heart of the city. Our desk is clearly visible in the station concourse.
Bologna lies at the junction of the A1, A14 and A13 roads giving you easy access to the region and other major destinations in Italy. Like all major cities, the roads in Bologna become very congested during rush hours while the month of August is always busy when Italian families flock to the city for their Summer holidays. Cars are banned in the historic centre of Bologna during the day.
Parking in the city is on the street at pay and display blue zones or in clearly marked garages and multistorey car parks, of which there are plenty. Do not be tempted to park in permit only areas as you will receive a fine.
A great way to start your visit to Bologna is by getting an overview of the city layout. To do this take a drive around the Viali, an easily recognisable road that circles the city. You can orient yourself by locating the Due Torri, or Two Towers in the city centre and as you drive, look out for the beautiful buildings of the ancient university campus. Finish your trip by taking the short journey to the Giardini Margherita the city's largest park. There are many museums in Bologna but try and visit the Archaeological Museum with its collections dating back nearly 2,000 years as well as the National Picture Gallery which houses works by Titian and Rafael. The Due Torre, Asinelli and Garisenda, are the symbols of Bologna. Be sure to climb the Torre dei Asinelli for stunning views of the city.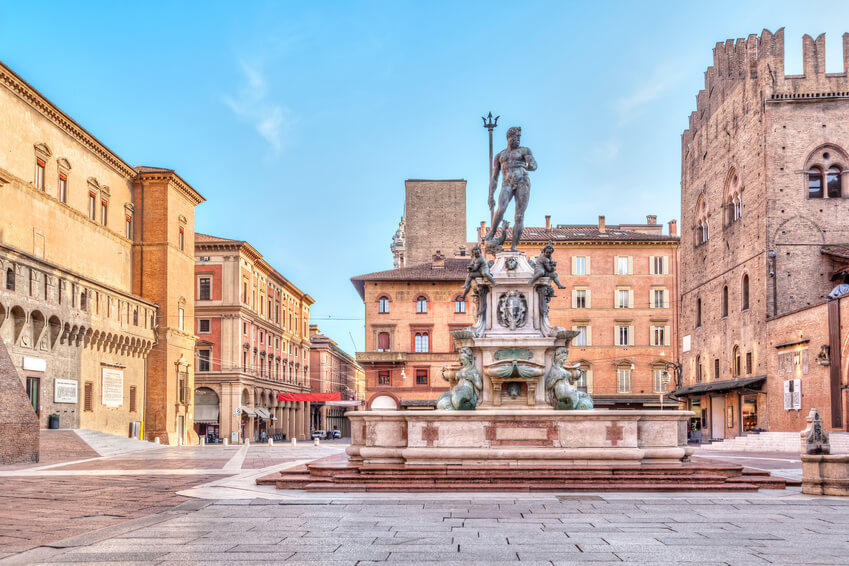 Sixt Tip
The World's Oldest University in Bologna
Bologna University, founded in 1088, is the oldest in the world and a real part of the cultural heart of the city. It has an illustrious roll call of previous students including Petrarch, Dürer and Copernicus as well as several popes. Take a stroll around the beautiful buildings of the campus before enjoying some of the small museums which are housed in the university. Interesting ones are the Museo della Specola in the Astronomical Tower, the Museo Navale with its large models of 18th-century warships and the Museo Ostetrico or Obstetric Museum.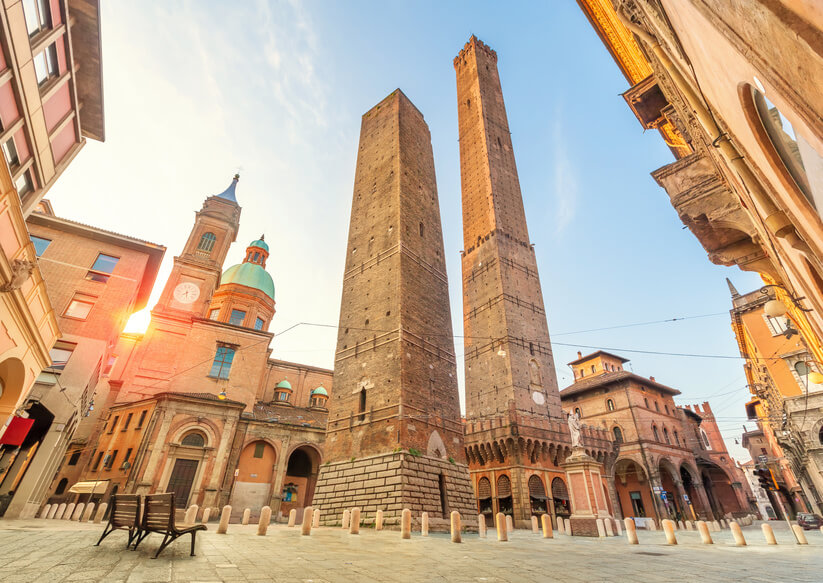 Sightseeing Destinations
Ferrari, Lamborghini and Maserati cars are all made in the Emilia-Romagna district. Admire sleek models and choose the one you would like to own with a visit to the Lamborghini Museum at Sant Agata Bolognese.
Distances to the Lamborghini Museum
From Bologna Airport: 15.5 miles, about 30 minutes
From Bologna Centrale: 20.5 miles, about 40 minutes
If you want to combine a trip to the coast with the sight of some stunning mosaics then head to the city of Ravenna, once the capital of the Holy Roman Empire. As an added bonus your trip will take you through the beautifully rugged Emilia-Romagna landscape.
Distances to Ravenna
From Bologna Airport: 52 miles, about 55 minutes
From Bologna Centrale: 55 miles, about 1 hour
To see what inspired Dante's vision of hell drive cross country to the unique geological formations at Pietra di Bismantova. Still inspiring poets and musicians, the area is the perfect place for long countryside hikes.
Distances to Pietra di Bismantova
From Bologna Airport: 68 miles, about 1 hour 30 minutes
From Bologna Centrale: 72 miles, about 1 hour 40 minutes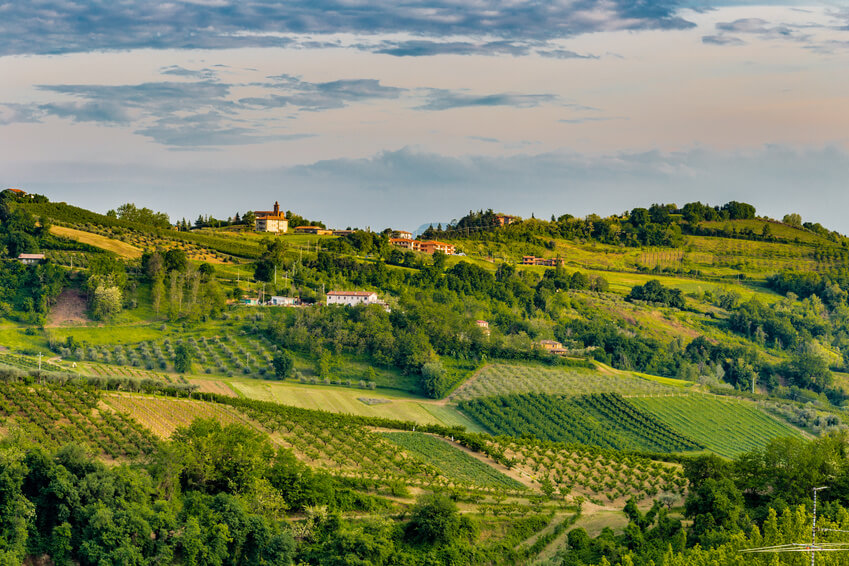 Business Destinations
Bologna is an important railway and motorway hub in Italy which has helped the development of its car, textile, footwear and printing industries. International tourism has become a growing sector in recent years. The BolognaFiere Exhibition Centre is one of the largest in Europe and holds annual expos that focus mainly on the motor industry.
Distances to BolognaFiere
From Bologna Airport: 5 miles, about 8 minutes
From Bologna Centrale: 1.5, about 10 minutes