Sixt car hire Bari
Our Service
 |  
Traffic Information
 |  
Sixt Tip
 |  
Sightseeing Destinations
 |
Business Destinations
|  
Rental FAQs
The Bari homepage gives a brief introduction to our branch then click on the grey right-hand tab to see exactly where it is located. Clicking through to the Bari Airport page gives you full information about the fleet, opening hours and location. For your convenience, our car hire in Bari branch is open every day of the year and offers a 24-hour return facility, perfect for travel plans. You can compare our prices between cars we offer on our vehicle category list before making a reservation. Our reservation systems are quick and straightforward. Call our booking hotline to speak to a friendly advisor or simply download the Sixt apps for Android and iOS devices. We guarantee your chosen category of car rental in Bari but cannot do the same for specific makes. Whether your car hire is for one weekend or longer our knowledgeable branch staff are ready to welcome you and answer any queries.
Our Service
Our Bari fleet is perfect for both your business or leisure needs whatever your party size or budget. We have a range of compact cars, ideal for city driving or more spacious family-sized estate cars along with rugged yet comfortable 4x4s for making the most of the Puglian countryside and coastline. Our premium rental cars are supplied by trusted names such as BMW, Jaguar, Mercedes-Benz and Audi and we are also able to supply vehicles adapted for different mobility needs. Our attractive range of additional extras is designed to ensure stress-free driving in Italy and includes Sat Navs and child seats. We also have Winter accessories of snow chains and ski racks for visitors heading to the ski resorts of the Basilicata region less than two hours drive away. Take advantage of our great deals on extra insurance, unlimited mileage and additional drivers and we are always happy to offer car hire to younger drivers under 25.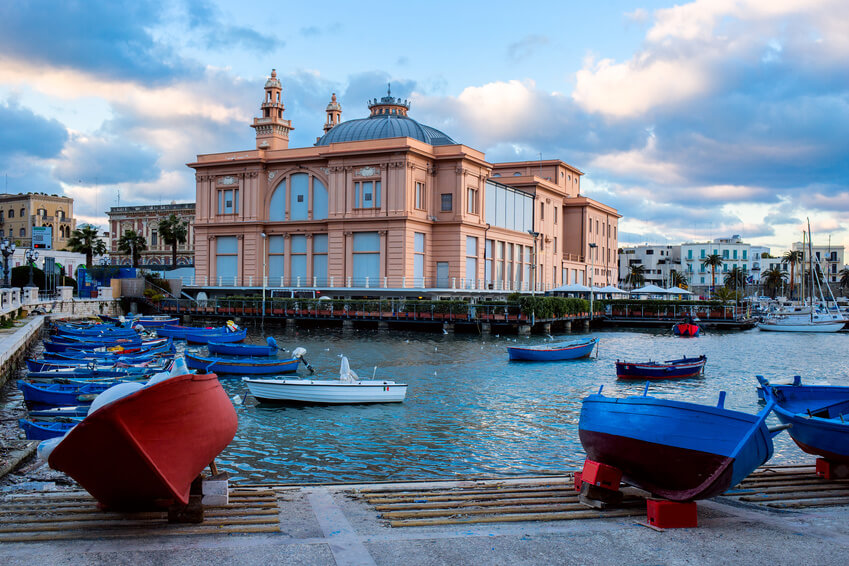 Traffic Information
Our car hire in Bari is run in partnership with Win Rent. Look out for its signs in the arrivals hall of the airport. Once your paperwork is completed the drive into the city centre takes just over 20 minutes on the SP73 motorway.
Italian drivers have a reputation for being speedy and drivers in Bari are no exception. Add in the narrow streets and restricted resident-only zones or ZTLJs and life can get a little confusing. Staff at the airport desk or your hotel reception can advise you about restricted zones while adding a Sat Nav to your contract will ensure you do not get lost.
With dozens of car parks and plenty of metered street parking you will not have a problem finding a space for your rental vehicle. As in many towns, parking becomes more expensive the nearer you get to the city centre.
Start your visit with a drive through the streets of Bari to see how this old maritime town hugs the coastline and in many places seems to cling to the cliffs. Stroll through Bari Vecchia, the old town and you are sure to get lost in its maze of tiny streets that cover archaeological wonders going back over many centuries. Take a tour of the Basilica of Saint Nicholas with its stunning gold ceiling, marble bishop's throne and the supposed relics of Saint Nicholas or Santa Claus which lie in the crypt. Take time out for coffee or a cold beer and a spot of people watching in the picturesque Piazza del Ferrarese or Piazza Mercantile before exploring the Palazzo del Catapano and the Fort of Saint Antony, now the city's gallery of modern art. Finish a day in Bari with a sunset walk along the top of the old city walls.

Sixt Tip
One of the most delightful things about visiting Bari is being able to sample its gastronomy, said by locals to be the best in Italy. The cuisine is based on the three major ingredients that are readily available in the Puglia region, wheat, olive oil and wine. These basic ingredients are enriched with locally produced meats such as goat and lamb along with plenty of garlic and seasonal vegetables to give delicious dishes such as orecchiette or little ears pasta. This is served with anything from freshly caught mussels, to wild fennel, white beans or ricotta. The area is also famous for its cheeses made from sheep milk especially the Fallone di Gravina which needs to be eaten within 24-hours or the Pampanella which takes on the flavour of the fig leaves in which it is wrapped. And, of course, any meal should be accompanied by the strong red wines of Puglia.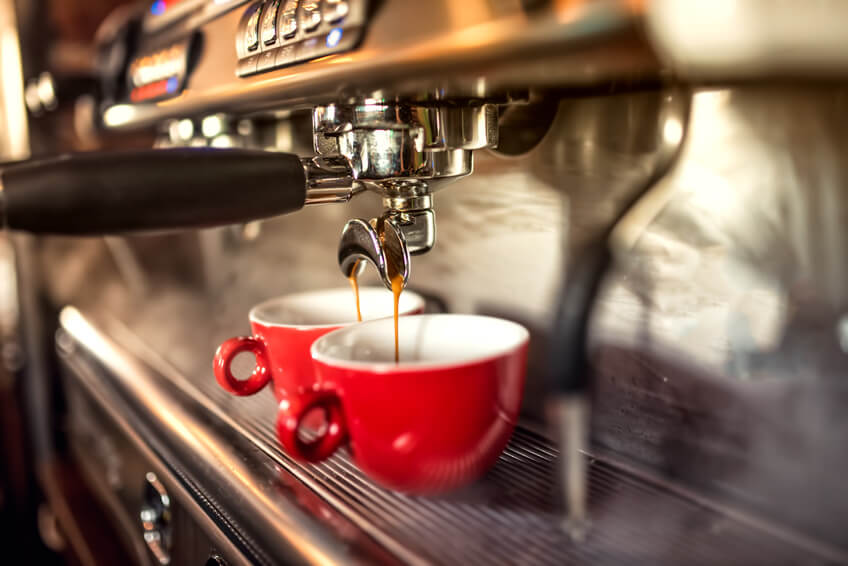 Sightseeing Destinations
The small town of Trani is the ideal destination for lovers of architecture and history. Its 12th-century Cattedrale Piazza Duomo is one of the country's best-preserved Romanesque churches and is particularly known for its bronze doors made up of 32 decorated panels.
Distances to Trani
From Bari Airport: 24 miles, about 30 minutes
From Bari Vecchia: 29.5 miles, about 45 minutes
The hills around Bari are full of evidence from where past civilisations lived their lives in man-made and natural caves. The Cave Church of Santa Candida in Lama Picone is a good example.
Distances to Santa Candida
From Bari Airport: 39.5 miles, about 50 minutes
From Bari Vecchia: 31.5 miles, about 50 minutes
When the children have had enough of history they can let off steam at the Miragica Theme Park where thrills and spills for all ages can be enjoyed along with stunt-filled shows and an exciting 4D cinema.
Distances to Miragica
From Bari Airport: 15.5 miles, about 20 minutes
From Bari Vecchia: 29.5 miles, about 45 minutes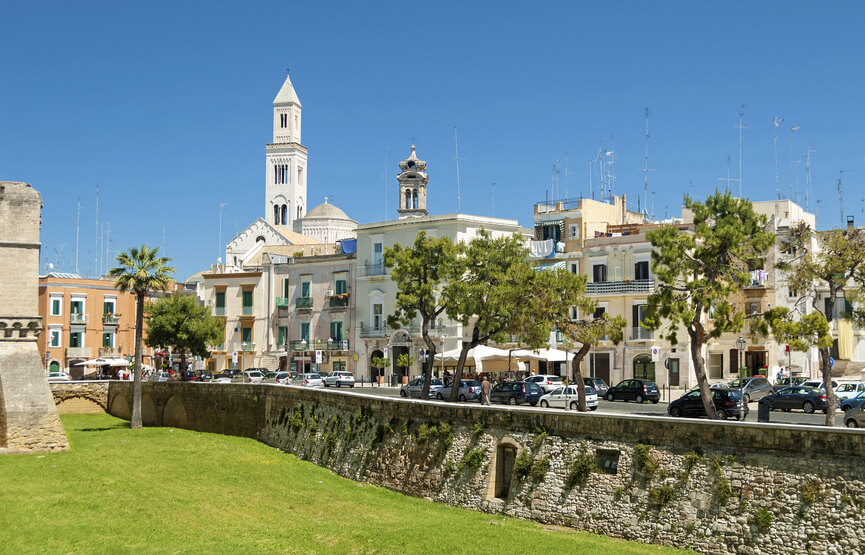 Business Destinations
After Naples, Bari is the second most important city in Southern Italy and has an economy dominated by its port and large university. Small and medium sized businesses related to clothing, textiles and mechanics are also important. The Fiera del Levante is a sleek modern exhibition and conference centre and is home to one of Italy's most important annual trade fairs.
Distances to the Fiera del Levante
From Bari Airport: 7.5 miles, about 15 minutes
From Bari Vecchia: 2.5 miles, about 10 minutes