Sixt car hire Montpellier
Our Service  |  Traffic Information  |  Sixt Tip  |   Sightseeing Destinations  | Business Destinations |  Rental FAQs  
Use the right-hand arrows on our Montpellier homepage to open drop-down menus with details of our rental cars and branch opening hours. Clicking the grey right-hand tab on the menu bar reveals a city map with branch locations. At Montpellier Airport we offer extended opening hours, ideal for late flights while both the airport and our Montpellier Station St Roch branch have 24-hour return facilities. Please note that our Montpellier/BMW car hire office is closed at lunchtimes and weekends. Our website offers quick comparison between vehicle categories and shows just how affordable and easy it is to hire a car from us. When you are ready, our booking systems are straightforward, call our telephone hotline or download the Sixt apps for iOS and Android mobile devices. We guarantee your chosen category of car rental in Montpellier but cannot do the same for specific makes. We do, however, guarantee a warm welcome from our branch staff whether you require a vehicle for one weekend or longer.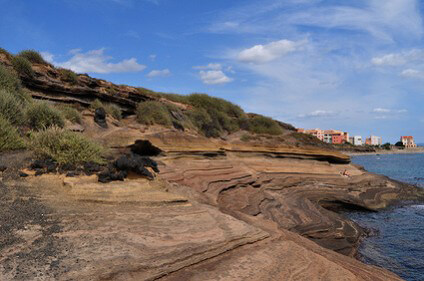 Our Service
All three of our car hire in Montpellier branches carry a full fleet of premium vehicles with something to suit whatever your party size or budget. Explore the grand boulevards and narrow backstreets of the city in compact saloons and family-sized estate cars or venture out into the countryside of the Languedoc-Roussillon region in the rugged comfort of a 4x4. Or, there is nothing better on a hot sunny day than cruising along the Mediterranean coastline in luxurious sports cars or convertibles. Every car rental in Montpellier we offer is supplied by a trusted name, with our fleet including vehicles from brands such as BMW, Mercedes-Benz, Jaguar and Audi. Get the most out of driving in France by browsing our attractive range of optional extras. It includes Sat Navs and child seats or if you are heading to the Haut Languedoc for Winter skiing we also supply snow chains and ski racks. Look out for special offers on unlimited mileage packages, extra insurance and additional drivers and note we are more than happy to welcome drivers under 25.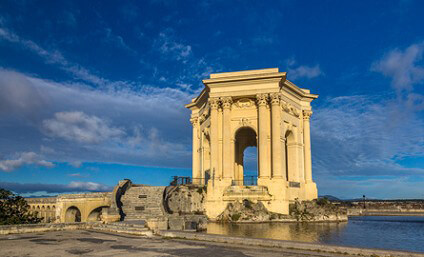 Traffic Information
You will find our car hire in Montpellier desk in the vehicle rentals building just outside the arrivals hall. Once rental cars are collected the city is less than half an hours drive away on the D66 road. At Montpellier St Roch our desk is in the new concourse and the station is linked to the city centre by tram or bus. Our Montpellier/BMW office is located in the Grim Passion dealership on Route du Pont de Guerre on the outskirts of the city and near the E80 motorway.
You will find a Sat Nav helpful in Montpellier as its signage can be confusing at times and the historic district has strict traffic restrictions. The city centre can become very congested at peak hours. Once away from the town there are fast road links along the coastline and across the region. Although choosing minor roads adds time to journeys they do offer much more scenic driving.
There are several pay-and-display car parks in central Montpellier or if you plan on visiting the pedestrianised historic district, there is ample parking at the end of each tram line.
As Montpellier is quite a spread out city and the nearest beaches are around 7 miles away the best way to start your visit is by taking a leisurely drive in your rental vehicle. As you drive to the coastal Etang de l'Or and the beaches you will go past the Aquarium Mare Nostrum. This large contemporary building has plenty of fun and educational hands-on exhibits including unique sea storm and hurricane simulators. Montpellier Zoo also makes a great day out for the family. Its large outdoor areas are home to animals from across the globe and it also features an indoor Amazonian Rainforest display. Other places to visit include the Musee Fabre with its art exhibits and the grandiose Cathédrale Saint-Pierre.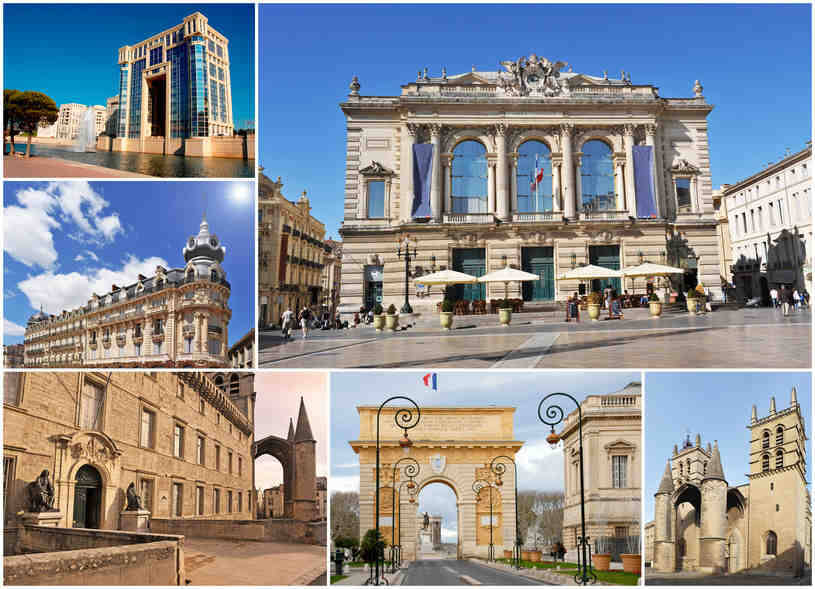 Sixt Tip
Montpelliers History of Science
Among the varied architecture of Montpellier you will find the medical school, the oldest in Europe, on the Rue de l'Ecole de Médecine near St Peter's Cathedral. In fact, this medical school which is still active is one of the oldest in the world. Visit the tourist office and book a tour of the school's Anatomy Museum, its splendid horrors are not for the faint-hearted. The entrance to the school is dominated by statues of two famous professors. Peyronie graduated as a master barber-surgeon in 1747 at the tender age of 17, later becoming court surgeon to Louis XV. The other statue is of Barthez who graduated in 1756 when only 20. Luckily, todays graduates are expected to have a little more experience.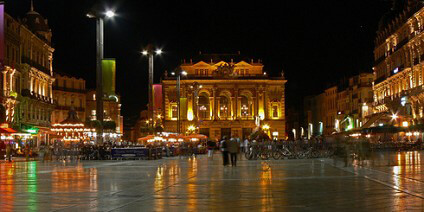 Sightseeing Destinations
Although the Mediterranean coastline is dotted with beautiful beaches, Espiguette is considered one of the most scenic. This wild and windswept beach is backed by dunes but do not expect bars and facilities, it is definitely where you go to escape the crowds.
Distances to Espeguette
From Montpellier Airport: 19 miles, about 30 minutes
From St Roch Station: 25 miles, about 50 minutes
Head to medieval Saint-Guilhem-le-Desert in the hills where you can canoe on the River Herault as well as exploring gorges and underwater caves.
Distances to Saint-Guilhem-le-Desert
From Montpellier Airport: 24 miles, about 30 minutes
From St Roch Station: 28 miles, about 50 minutes
No visit to this area of France is complete without visiting the Camargue. This natural environment is dominated by medieval fortifications as well as lakes and marshes where flamingos, bulls and wild horses live.
Distances to the Camargue
From Montpellier Airport: 33 miles, about 40 minutes
From St Roch Station: 39 miles, about 1 hour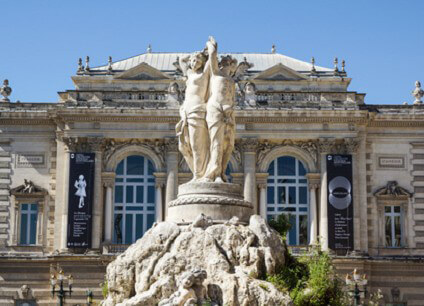 Business Destinations
Montpellier has long been a place of study and today nearly one-third of its population is students who study at its six universities and higher-education colleges. Agriculture in the surrounding areas and business start-ups are also important to the economy. Montpellier is home to one of France's top conference venues, Le Corum: Palais des Congrès. The Berlioz Opera House is also in Le Corum.
Distances to Le Corum
From Montpellier Airport: 9.5 miles, about 15 minutes
From St Roch Station: 0.5 miles, about 10 minutes

Rental FAQs
Below are the quick answers to some of our most frequently asked questions. Please be reminded that every country has slightly different rules and regulations, so for the most specific and detailed information pertaining to your desired rental please visit our rental information page.
Can I hire a certain car model? If I'm not happy with my vehicle can I change it?
Do I have to pay a security deposit?
Which documents are needed to pick up the rental car?
What do the various insurance options cover?
Can I rent the car at one place and drop it off at another station?
Can I change my booking and do I have to pay a cancellation fee?
Does Sixt deliver rental cars?
Can I cross borders with my rental car?
What is Sixt's refuelling policy?

Other languages

Location de voiture à Montpellier