Sixt Car Hire Services at Marseille Airport
Enjoy hassle-free car hire from Marseille Airport with Sixt rent a car. We offer a comprehensive fleet of vehicles, including compact economy cars, family saloons, 4x4s, convertibles and luxury cars, so you can drive in the South of France in true style. Personalise your rental with our extras including sat nav and child car seats, and enjoy your rental without constraints with our long term hire, one way hire and additional driver options, giving you the freedom to discover the beautiful region of Provence and the wider South of France with absolute ease. We also run a 24 hour returns policy, so no matter your schedule, you don't have to worry about dropping your car rental back at Marseille airport.
Where to find Sixt at Marseille Provence Airport (MRS)
Our Marseille Airport car hire branch is conveniently located in front of the Arrivals Hall, in the 'Car Rental' area. Our friendly staff will be there waiting to assist you when you arrive. The airport is just 16 miles away from Marseille city centre, making it less than a half hours drive in your car rental. With less time having to be spent navigating local transport, you can get started with your trip as soon as you land.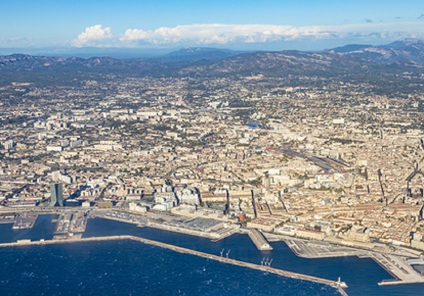 Explore Marseille
Marseille is a fascinating city with a unique heritage. As one of the oldest cities in Europe it has a complex history with many cultural influences from all over the world. These can be seen in its architecture and food, as well as in the traditional museums and galleries. The Vieux-Port is the old harbour and marina, protected by two large ancient forts, and offering European cafe culture by the sea with its many cafes and restaurants to sample local food. The Noailles district is one of the city's most diverse with many Arabic and Indo-Chinese shops, and the Noailles Market is a real treat, colourfully buzzing with life and history. The Corniche Road along the sea is a tranquil way to orientate yourself with views from the Chateau d'If, a small island off the city which a fort then turned prison, to Calanques, a series of small fjords outside the city with outstanding views.