Sixt Car Hire Services in Grenoble Airport (GNB)
Car hire in Grenoble is made easy with our Sixt branch located conveniently at Grenoble Airport. With an extensive selection of cars and estates, ranging from luxury to economy, your car hire needs for your trip to Grenoble are sure to be fulfilled. Customise you car rental with a range of additional extras such as insurance deals, unlimited mileage, a baby seat or Sat Nav, and ensure that your trip runs as smoothly as possible. Should you be visiting this area for the 2019 ski season, our range of winter equipment can be highly useful for you. We give the option of adding on winter tyres, magnetic ski racks and snow chains to your rental car. Simply add these on when choosing your ideal vehicle, or speak to our helpful stuff in our Grenoble Airport branch who will be sure to advise you on what's best.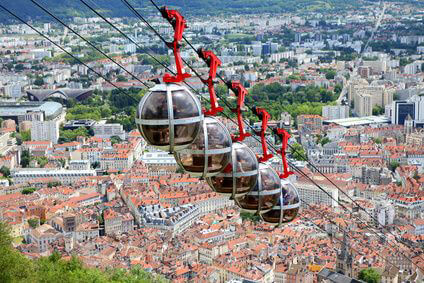 Explore Grenoble and the French Alps with your car hire
Nestled within the mountains of the beautiful Rhône-Alpes region, this French city is a popular skiing resort in winter but offers an abundance of things to see and do in summer too. Your own personal vehicle grants you access to the many fine ski resorts and lodges in the area, and you won't have to rely on public transportation or ski rentals. A must do in Grenoble is to take a drive to the Bastille, a fortress situated on top of a mountain range. Take a cable car to the top of the mountain where you will be rewarded with amazing views of the area. For a day trip, head to Château de Vizille, a 17th century castle set within idyllic surroundings, 16km from the city of Grenoble. With so much to see in the area, hire a rental car from Sixt to ensure you can get around conveniently!
Grenoble Airport (GNB) Information
This international airport is situated 40 km northwest of the city of Grenoble in the Rhône-Alpes region of France. The airport's compact size means that we are easy to find. Our Sixt Grenoble Airport branch benefits from 24 hour returns, meaning that you can enjoy your trip to Grenoble without worrying about deadlines or late night departing flights.