Click on the second tab of our Dubrovnik branch menu to open a useful overview map showing our rental locations in the city. Our Dubrovnik Airport branch offers long opening hours and 24 hour return giving you flexibility on your travels. Please note that we can only guarantee a class of vehicle, rather than specific model of rental vehicle when you hire a car.
We are proud to provide an extensive fleet of vehicles for your car hire in Dubrovnik. Our wide range of vehicles means we are able to cater to all budgets and requirements, whether you are interested in a premium vehicle from a luxury manufacturer or simply need an economy car for a few days while you are on holiday. If you are looking to treat yourself you can opt for one of our luxury vehicles from premium manufacturers such as BMW and Mercedes-Benz. We also have sports convertibles, ideal for holidays and special occasions, and 4x4 vehicles for those wishing to explore the countryside. We are pleased to assist all types of customer including those local to the area and visitors, as well as business travellers. Perhaps you will be transporting goods and require a van, or are travelling as part of a large group and feel a minibus will be more comfortable.
Our rental vehicles are well-maintained and you can add extra value to your rental by adding on a useful extra such as Sat Nav to help you navigate unfamiliar roads o a child seat for those travelling with young children. You can have added peace of mind with your car rental by opting for our collision damage waiver, tire and windscreen cover or roadside protection too. For those driving long distances, you may wish to add on an additional driver so that you can share the load of driving and ensure you remain comfortable and rested.
Traffic and Driving Information in Dubrovnik
Driving Tips for your car hire in Dubrovnik:
Be careful to avoid the rush hours of Zagreb and Split between 7 and 8am and 3 to 4pm as the roads can become very congested.
Be careful not to drive on the tram lines that run along some roads.
It is also important to only use your horn in cases of immediate danger when driving in Croatia.
Be sure to have cash on you while driving in Croatia, as the Croatian police can use on the spot fines for all minor traffic violations including speeding. If you do not have cash with you when fined, you will be taken to a bank and if you still lack the funds to pay your vehicle can be impounded pending a payment.
Parking is fairly simple in Croatia, as parking bays are marked by white lines and large white P sign on the kerb. Yellow dots mean parking is for disabled people only.
The Croatian Auto Club Emergency Service can be reached on the telephone number 987 for road assistance.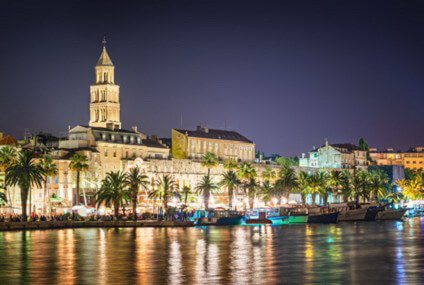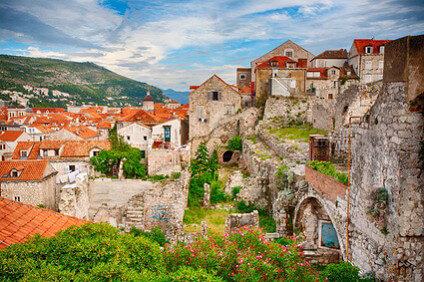 Sixt Tip: Dubrovnik's Rich Heritage
While with many other holiday locations, you must choose between a sun-seeker holiday or a cultural holiday, Dubrovnik offers both. History buffs will enjoy visiting the ancient fortifications and learning about Dubrovnik's intriguing heritage, while as the city has an average of 7.2 hours of sunshine each day, there are also plenty of opportunities for sun bathing and relaxing outside. For the best views of the city, beach and sea, take a trip on the bright orange Cablecar that journeys the sharp incline up over the Old Town to Mount Srd, giving you the ideal mix of great views and the important history of the area.
Sightseeing Destinations
No trip to Dubrovnik would be complete without a visit to the ancient city walls, which are some of the finest in the world and one of the hallmark attractions of the city. Standing at the top of the walls gives you picturesque views of the old town and glimmering Adriatic. There are several entrances to the walls from the Ploce Gate, Maritime Museum and the Pile Gate, with the last tending to be the busiest. If you enjoy a challenge take the Ploce side entrance to tackle the steepest climbs first. Please note that the city walls can be a strenuous walk, particularly in hot weather, and may not be suitable for those with mobility difficulties.
Distance to the city walls
From Dubrovnik city centre: 1.4 miles, about 8 minutes
From Dubrovnik airport branch: 13.1 miles, about 31 minutes
Stradun is the main street in the city of Dubrovnik. This limestone-paved street is a pedestrian zone covering 300 metres of the Old Town, the historic core of the city that is surrounded by the city walls. Take a walk along the Stradun to enjoy the picturesque architecture. All houses lining the Stradun feature the same pattern of a ground level with a door entrance leading to a shop, and a window within a single frame beneath a semi-circular arch. The Stradun is something of a showcase for the city's main historical buildings, such as Onofrio's Fountain, a spectacular large fountain built in 1438 as part of the city's water supply system.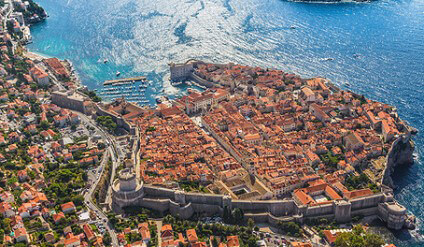 Distance to Stradun
From Dubrovnik city centre: 1.9 miles, 10 minutes
From Dubrvonik airport branch: 12.9 miles, about 29 minutes
There are several wonderful beaches in the Lapad area, a short drive from Dubrovnik city centre. Located on a peninsula, Lapad has the lovely Sumratin Bay (Uvala Lapad), well-equipped with a long boulevard with plenty of coffee and refreshment bars and beach restaurants. Further along this stretch you'll find a pebble beach and a concrete area for those who prefer to walk along the beachside without getting their feet sandy or walking over the pebbles.
Distance to Lapad
From Dubrovnik city centre: 1.4 miles, about 7 minutes
From Dubrovnik airport: 14.1 miles, about 32 minutes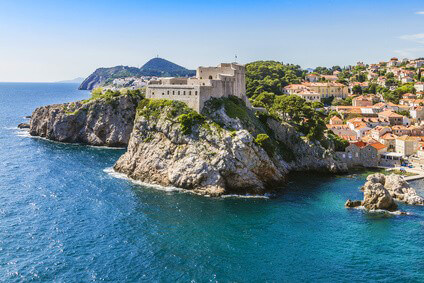 Business Destinations
As an exceptional medieval stone walled city, Dubrovnik is one of Europe's busiest MICE Meetings, Incentives, Conferences, and Events) destinations, bringing in business visitors from around the world. Few other cities have the option to spend corporate retreats talking business one day, then visiting ancient fortifications and relaxing at the beach the next. With no large purpose-built conference centres due to its relatively un-spoilt layout, most business events and conferences are held at hotels in Dubrovnik. These include the Radisson Blu Resort and Spa, which is an ideal corporate retreat venue giving delegates the opportunity to relax and unwind once business has been discussed.
Distance to Radisson Blu Resort and Spa
From Dubrovnik city centre: 9.3 miles, about 25 minutes
From Dubrovnik Airport branch: 20.5 miles, about 40 minutes

Rental FAQs
Below are the quick answers to some of our most frequently asked questions. Please be reminded that every country has slightly different rules and regulations, so for the most specific and detailed information pertaining to your desired rental please visit our rental information page.
Can I hire a certain car model? If I'm not happy with my vehicle can I change it?
Do I have to pay a security deposit?
Which documents are needed to pick up the rental car?
What do the various insurance options cover?
Can I rent the car at one place and drop it off at another station?
Can I change my booking and do I have to pay a cancellation fee?
Does Sixt deliver rental cars?
Can I cross borders with my rental car?
What is Sixt's refuelling policy?